Inmetro, the Brazilian quality, standards and metrology bureau, has issued an amendment to Ordinance 371/2009 in regards to mandatory certification of products as a prerequisite for sale within the Brazilian market.
Mandatory certification for electrical household products made or imported to Brazil, as originally set out in Ordinance 371/2009, was to be implemented in three stages, beginning in 2011 and reaching its conclusion in 2013. Inmetro has issued Ordinance 328/2011, postponing the date of implementation for a series of products by one year.

SCOPE OF APPLICATIONS OF ORDINANCE 371/2009
Ordinance 371/2009 applies to most electrical household appliances included in ABNT, NBR, NM, NM National Standards or IEC 60335-2-X with certain exceptions for products included in other conformity assessment programmes of Inmetro. Ordinance 328/2011 clarifies that mandatory certification according to Ordinance 371/2009 is required for certain products and sets a new implementation schedule, different from the original time frame for these products. Such products include compressors, electrical stoves, electrical ovens (except those covered by IEC 60335-2-36 and IEC 60335- 2-42), commercial microwave ovens covered by IEC60335-2-90, jacuzzis, dryers, dishwashers, wine fridges, freezers, commercial refrigerators, hybrid accumulation water heaters and heat pumps. At the same time Ordinance 328 clarifies that centrifuges, household microwave ovens, commercial electric ovens, pumps, UV/IR skin exposure devices, massage appliances, projectors and others are excluded from the mandatory certification requirements of Ordinance 371, partially because they are subject to other specific regulations and conformity assessment programmes or because such programmes are being developed.
REQUIREMENTS SET OUT BY ORDINACE 371
Ordinance 371/2009 establishes requirements for safety tests. SGS can provide the required testing services through our global network of E&E laboratories. Test reports issued by testing labs accredited by accreditation bodies who are ILAC-member (International Laboratory Accreditation Cooperation) can be submitted by manufacturers applying for the Inmetro mandatory product certification (http://www.sgs.com/~/media/Global/Documents/Brochures/SGS-Brazil-Inmetro-Web-A4-EN-11-v1.pdf). Such test reports may not be older than 2 years. Regular audits of manufacturers' quality management systems and routine safety tests in the production lines shall be conducted by SGS to ensure their compliance with the requirements. Importers will need to provide a Customer Service Center dedicated to Brazilian consumers. Also, the Certificate owner should be a Brazilian importer and each Certificate which is valid for 3 years can only use one trademark.
Exporters of electric household appliances must use the certification for export to Brazil. Most technical requirements (IEC/EN standards) and factory inspection requirements in Ordinance 371/2009 are similar to those of CE (the testing part) and GS in the European Union. Products with this certification should be labeled with the Inmetro Mandatory Certification Mark. It should be noted also that electric plugs or sockets incorporated in household appliances exported to Brazil, must comply with Inmetro NBR14136.
The rated voltages in Brazil are 127V and 220V, 60H. Thus products exported to Brazil may have two versions of rated voltage in one model. The Inmetro Certification is a one model, one certificate type, however; there are two definitions to "one model." These are defined as, the same model no. name with two different rated voltage versions (127V and 220V) and two different model no. names with any difference being due to the voltage (127V and 220V).
SGS Brazil (http://www.sgsgroup.com.br/en/) is accredited to directly issue Inmetro certifications, providing covering tests, rectifications, factory inspections and document application for the Inmetro Mandatory Certification for electrical and electronic products. The SGS Inmetro registration number is: OCP 0040.
For more info on SGS Inmetro certification, please contact the local SGS experts.
Contact details:
SGS Consumer Testing Services
Thiago Doretto
Business Development Manager, SGS ICS
Av. Andrômeda, 832
06473-000 Barueri
Brazil
t +55 11 3883 8880
Email: cts.media@sgs.com
Website: http://www.sgs.com/pages/consumer-testing/sgs-consumer-goods-and-retail.aspx
SGS is the world's leading inspection, verification, testing and certification company. SGS is recognized as the global benchmark for quality and integrity. With more than 70,000 employees, SGS operates a network of over 1,350 offices and laboratories around the world.
Featured Product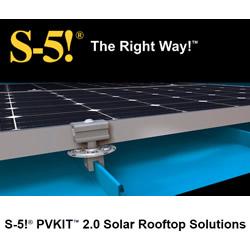 The concept of combining PV arrays with standing seam metal roofing is growing-for good reasons. Metal roofs have a life expectancy of more than 40 years. Shouldn't the mounting system last as long? With S-5! zero-penetration attachment technology and PVKIT 2.0, the solarized metal roof is the most sustainable system available -and without compromising roof warranties! PVKIT 2.0 is the also the best solution for attaching PV modules directly to any exposed fastener metal roof.