The development of the REC Peak Energy Eco module demonstrates REC's commitment to developing high-performing technologies that are safe and sustainable throughout the lifecycle
May 30, 2012

MUNICH--Europe's largest solar module producer, Renewable Energy Corporation (REC), has today launched the REC Peak Energy Eco– a new solar module produced with lead-free soldering.
An innovative step in manufacturing has enabled REC to remove all the lead normally required in the soldering process, which has significantly cut the lead content in the module. The result is an even more environmentally-friendly product with the same high output performance and reliability as other REC modules.
"We are seeing that an increasing number of our customers and regulators require information about the environmental footprint of solar solutions," confirms Luc Graré, Senior Vice President, Sales and Marketing, Cells and Modules, REC. "The development of the REC Peak Energy Eco module demonstrates REC's commitment to developing high-performing technologies that are safe and sustainable throughout the lifecycle."
Like other modules in the REC Peak Energy Series, the REC Peak Energy Eco module delivers more energy per watt peak, has a robust and durable design, is easy to install, and is readily available. REC modules also have the lightest carbon footprint for multicrystalline modules and an industry-leading energy payback time of one year – thanks in part to REC's proprietary Fluidized Bed Reactor (FBR) process, which uses 90 percent less energy to produce silicon than competing technologies.
All of these features will help this new module to achieve the environmental objectives of homeowners, businesses and governments looking to reduce their carbon footprint and save on their energy costs.
As part of REC's commitment to the environment, not only are REC modules being made even more eco-friendly, but REC is also implementing improved sustainability reporting practices. The improved reporting will distinguish REC as one of the industry leaders in HSE performance. To find out more on these reporting practices, visit www.recgroup.com/sustainabilityreporting
About REC:
REC is a leading vertically integrated solar energy company. REC produces polysilicon, wafers, cells and modules for the solar industry, and silicon materials for the electronic industry. REC also engages in project development in selected PV segments. Founded in Norway in 1996, REC employs around 3,200 people globally with revenues of more than EUR 1.7 billion in 2011, approximately USD 2.4 billion. Please visit www.recgroup.com to learn more about REC.
Featured Product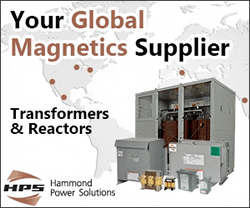 HPS is the largest manufacturer of dry-type transformers in North America. We engineer and manufacture a wide range of standard and custom transformers that are exported globally in electrical equipment and systems. We support solid industries such as oil and gas, mining, steel, waste and water treatment, and wind power generation. HPS leads the industry in these markets through its technical design strength, breadth of product, and manufacturing capabilities, making HPS a stronger company both fundamentally and financially.