Manufacturers and importers to the Indian and Turkish electronics industries are facing ever greater challenges, with new regulations now in effect regarding market surveillance for e-waste laws and hazardous substances standards.
India – New compliance criteria

With such an immense market, it has often proved challenging for the Indian government to provide effective surveillance to regulate electronic waste and hazardous substances. In 2009, over 19,000 tonnes of electronic waste was generated in Mumbai alone and the Indian Government has made the implementation of its e-waste and hazardous substances regulations one of its top priorities.
A draft notification was proposed by the Indian Ministry of Environment and Forests of its E-Waste (Management and Handling) Rules (http://moef.nic.in/downloads/public-information/Modified%20Draft%20E-waste.pdf), in May, 2010. This proposal aimed to create an effective mechanism to supervise the generation, collection, storage, transportation, import and export of EEE. A further chapter was included on reducing the amount of hazardous substances used in EEE manufacturing.
Consultations took place that resulted in the publication of the new E-Waste (Management and Handling) Rules 2011; these rules entered into effect on May 1, 2012. As with the EU WEEE and RoHS Directives, the Indian E-waste Rules 2011 focus on two primary areas. Firstly they limit the use of 20 substances in EEE for sale in India, and additionally ban several substances, including some flame retardants, which currently have no viable alternatives.
Turkey - Intensified market surveillance
Turkish Customs officers have intensified checks of EEE imported to Turkey and are increasingly denying entry to products that are not accompanied by all the required documentation.
Typically all consumer EEE destined for the Turkish market needs to be accompanied by its CE declaration of conformity, as well as LVD and EMC test reports. Products must strictly follow the applicable CE marking rules (http://www.sgs.com/en/Consumer-Goods-Retail/Electrical-and-Electronics/Audio-Video-and-Household-Appliances/Certification/CE-Marking.aspx).
The Turkish Industry Ministry has intensified its market surveillance and as of this year the ministry is randomly collecting E&E products already on sale and submitting them to testing. Product failures can prove costly to business as manufacturers and importers face being fined for non-compliance to the specific standards and their products withdrawn.
CE declaration of conformity is also mandatory for all gas appliances and all the applicable tests have to be performed by authorized third party labs that have worldwide recognized authorization numbers.
The Turkish Government has intensified its efforts to assist local manufacturers through the provision of greater market surveillance and added support in achieving compliance with ecodesign norms and other EU legislations. The ELEEN project (www.eleen.se), which SGS Turkey is a partner to, allows the Government to offer economic advantages to home grown manufacturers,
SGS assists business by facilitating quick market access in India and Turkey, as well as on any other market worldwide.
For more information, please contact the SGS experts.
Contact details:
SGS Consumer Testing Services
SGS India
3rd & 4th floors, LMJ Chambers, 15 C, Hemanta Basu Sarani
Kolkata 700001
India
Dr. Asish Chakraborty
Manager-Technical (Multilabs)
SGS India
t: +91 33 662 66 100 -104
Muge Okumus
E&E Section Manager
SGS Turkey
t: +90 212 368 40 00
Email: cts.media@sgs.com
Website: http://www.sgs.com/pages/consumer-testing/sgs-consumer-goods-and-retail.aspx
ABOUT SGS
SGS is the world's leading inspection, verification, testing and certification company. SGS is recognized as the global benchmark for quality and integrity. With more than 70,000 employees, SGS operates a network of over 1,350 offices and laboratories around the world.
Featured Product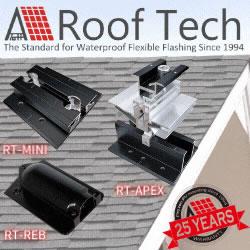 Now Roof Tech brings you the most innovative, watertight mounting systems ever developed for solar photovoltaic systems. Designed and manufactured exclusively for us by Japan's longtime leader in roofing technologies, Roof Tech products are 100% code-compliant and offer fast, simple installation and huge savings on shipping costs due to their compact, rail-less design. Learn more about our full line of versatile PV mounting solutions now available for residential installations. The next generation in rooftop solar mounting solutions."