Order underlines Hydrogenics' leadership in Power-to-Gas industry
Mississauga, ONTARIO, June 1, 2012 - Hydrogenics Corporation (NASDAQ: HYGS; TSX: HYG) today announced that it has received an order from E.ON for a 'Power-to-Gas' project in Germany. The two (2) megawatt energy storage facility, to be located in Falkenhagen in northeast Germany, will use surplus renewable energy sources to produce hydrogen for storage in the country's existing natural gas pipeline network.

Power-to-Gas is a novel way to store energy at utility scale, whereby surplus electrical grid power is converted into hydrogen gas. The hydrogen gas produced from the Falkenhagen plant; expected to be online in 2013; will be injected into the regional natural gas pipeline, making the natural gas pipeline network a storage system for surplus electrical power generated from renewable resources. While the amount of hydrogen injection is relatively small as a percentage of total pipeline capacity, these small quantities of hydrogen represent significant energy storage capacity and electrical grid support flexibility.
The E.ON project is a turnkey contract, which means Hydrogenics will provide a range of services to build the Power-to-Gas project, including supply, installation, connection and commissioning of the hydrogen production facility including gas compression, master controls, as well as a 5-year service and maintenance agreement.
"It's always greatly appreciated when companies such as E.ON reaffirm our position as the world leader in electrolysis by selecting us as the solution provider. The electrolysis of water into hydrogen whenever surplus electrical power is available is the optimal pathway to increase the renewable content in the energy system mix. When compared to current utility-scale solutions,
Power-to-Gas offers unmatched energy storage capacities. Over a 24 hour period, the Falkenhagen facility will be able to store over 30 MWh of energy." said Daryl Wilson, President and CEO of Hydrogenics. "Working with a world leader like E.ON to showcase how hydrogen's energy storage potential can be unlocked is a great validation for this capability and the compelling business case it offers."
About energy storage in Germany
Germany is a key energy storage player in Europe thanks to its leading position in terms of installed capacity of fluctuating renewables. In 2011, generation from renewable sources in
Germany accounted for 20 percent of total electricity generation. If Germany is to meet its ambitious goals of getting a third of its electricity from renewable energy by 2020, at least 50 percent by 2030 and 80 percent by 2050, it must find a way to store huge quantities of electricity in order to make up for the intermittency of renewable energy. The intermittency of wind and solar will make it almost impossible for German electric utilities to provide clean, affordable, and reliable power to industry and consumers, at the high levels of penetration by intermittent renewables that Germany is trying to achieve. Utility-scale energy storage will be a key part of this future German energy plan. According to the German Energy Agency (dena), investments in the two-digit billion range will be required if Germany intends to meet its stated objective of getting a third of its electricity consumption from renewable resources in 2020.
About Hydrogenics
Hydrogenics Corporation is a world leader in engineering and building the technologies required to enable the acceleration of a global power shift. Headquartered in Mississauga, Ontario, Hydrogenics provides hydrogen generation, energy storage and hydrogen power modules to its customers and partners around the world. Hydrogenics has manufacturing sites in Germany, Belgium and Canada and service centres in Russia, China, India, Europe, the US and Canada.
Featured Product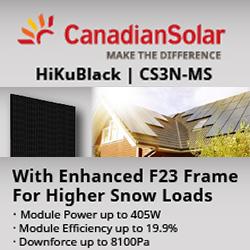 Aesthetic appearance for residential systems: With black backsheet & black frame, Power range 380 ~ 405 W, Low power loss in cell connection. Enhanced reliability: · Low temperature coefficient (Pmax): -0.34 % / °C, LID LeTID less than 2.0%, Lower hot spot temperature, Better shading tolerance.