Competitive Solar Electric Car Race for San Diego Youth
SAN DIEGO, CA (June 7, 2012) –Our next generation will decide the future of a sustainable planet, and one organization is facilitating the education necessary to allow kids to understand how renewable energy systems work. The San Diego Renewable Energy Society (SDRES) has partnered with local middle schools and teachers to make learning about science fun with an innovative solar power scholastic program, the Junior Solar Sprint.

The Junior Solar Sprint is a hands-on educational program that gives students the opportunity to design, build and race their own solar powered model cars. There are approximately 45 teams across five different San Diego middle schools that will be participating in the Junior Solar Sprint race. This collaborative initiative allows sixth, seventh and eighth grade students to work in teams and use unlimited ingenuity. Awards are given to winning student teams not only for the fastest speed in the drag race, but also for design and innovation.
"The multi-disciplinary project motivates students and illustrates how pursuing careers in the fields of science, math, and engineering can be exciting and highly rewarding particularly when applied to renewable energy sources," said Bruce Rogow, coordinator of the event for San Diego Renewable Energy Society.
This is the third annual Junior Solar Sprint that SDRES has hosted in conjunction with Sullivan Solar Power and the San Diego Electrical Training Center. Locally headquartered Sullivan Solar Power has donated the solar cell kits to power the students' cars for the past three years. The San Diego Electrical Training Center is the location where the event has continued to be held, appropriately so, as San Diego's most qualified electricians get their training at the Center. The facility also serves as an educational venue for kids with the 90kW rooftop solar installation.
"Junior Solar Sprint teaches our local youth in their formative years the potential that solar power represents for our country," said Daniel Sullivan, founder and president of Sullivan Solar Power. "It shows teens we can power our vehicles, homes and businesses with the power of the sun. The hope is to inspire these young individuals with education in solar technology but also make it something exciting in the process."
Local science teacher, Elaine Gillum, has 137 students at Marshall Middle School that are producing 24 solar racing cars as a part of the Junior Solar Sprint program. She has participated in the initiative since SDRES started the program. "Kids learn about solar energy, engineering, building and team work," said Gillum, "All of those are very important for our students to learn. And, they learn it doing something fun! How cool is that?"
Gillum says that she has seen the program change kids' lives. She cites one young man, Alex, who had failed just about every class he'd taken in eighth grade and the previous two years. While "school" classes were tough, the teen could work with his hands. He helped his team construct a wonderful car. Because of Elaine Gillum's observations, the vice principal was able to get the youth into a high school that has a special construction school and the student is doing terrific as a freshman. "He literally found something he was good at, for the first time at school, and bloomed," said Gillum, "For many of the kids construction and building are not something that are a part of their lives. This is the first time some have ever held a screw driver!"
The Junior Solar Sprint race will take place on Saturday, June 9 at 11 a.m. in the parking lot of the San Diego Electrical Training Center, at 4675 Viewridge Ave., San Diego, CA. For more information, visit www.juniorsolarsprint.com.
About San Diego Renewable Energy Society
San Diego Renewable Energy Society (SDRES) is a nonprofit membership organization, is the San Diego County regional chapter of the American Solar Energy Society. The organization is dedicated to increasing the intelligent use of renewable and sustainable energy technologies in San Diego County and educates the public about the near and long-term applications and benefits of renewable energy, conservation and energy efficiency. SDRES develops networking opportunities for solar educators, researchers, advocates and business people while supporting legislative initiatives for alternative energy technologies. Visit www.sdres.org for more information.
About Sullivan Solar Power
Sullivan Solar Power is a turnkey solar system provider that delivers solar electric projects from concept to completion. The company has installed over 9,000,000 watts of solar power ranging from small-scale residential to large-scale commercial and municipal systems. Sullivan Solar Power is headquartered in San Diego, CA and owned and operated by Dan Sullivan. Sullivan Solar Power has a longstanding A-plus rating with the Better Business Bureau, with no complaints filed since the business began. The firm has been named one of the fastest growing energy firms in the nation by Inc. Magazine and services all of Southern California. Regardless of project size and scope, Sullivan is committed to delivering the best products and the most qualified professionals to its customers. Visit www.sullivansolarpower.com for more information.
Featured Product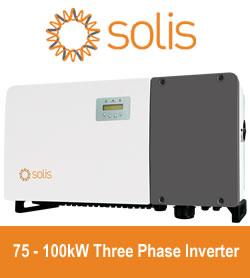 Solis75kW - 100kW series high-power string inverters are widely used in industrial and commercial rooftops. Solis's new three-phase string inverter is the first choice for industrial and commercial photovoltaics. 75-100kW three phase series string inverter have Maximum 28 strings input, support "Y" type connection in DC side. Maximum string input current 13A, support bifacial modules access.Supports anti-PID function to improve system efficiency.