Solar PV installations increase 85% in Q1 2012 over Q1 2011 according to US Solar Market Insight Report.
WASHINGTON D.C. — The U.S. Solar Market Insight: Q1 2012, a report to be released tomorrow by GTM Research and the Solar Energy Industries Association (SEIA®), finds that growth in solar photovoltaics (PV) markets in the U.S. is maintaining its breakneck pace from 2011.

Led by strong growth in the commercial market segment, the U.S. installed a record of 506 megawatts (MW) over the first three months of this year, more than any other first quarter on record.
This quarter's activity brings the total amount of solar PV across America to 4,427 MW. In addition, concentrating solar power (CSP) facilities are providing 516 MW of electric power to the U.S. Together, solar electric capacity reached 4,943 MW in the U.S., enough to power 775,000 households.
"The U.S. solar industry continues to lead the U.S. out of difficult economic times," said Rhone Resch, president and CEO of SEIA. "Installations have grown by 85 percent in the last year. This growth is coming from consumers who are turning to solar to reduce their energy costs. In states across the country, Americans are waking up to the realization that putting solar on your home or business is a better investment than the stock market."
Overall, 2012 is shaping up to be another banner year for the U.S. solar market. Tomorrow's U.S. Solar Market Insight report forecasts total 2012 annual solar PV installations to exceed 3,200 megawatts, 75 percent greater than last year's total and 15 percent higher than previous annual forecasts for 2012.
The increase in forecasted installations for 2012 is due to accelerated timelines for large-scale utility projects, greater-than-expected first quarter growth in the New Jersey commercial market, the number of safe-harbored projects that will still qualify for the U.S. government's expired 1603 Treasury Program, and overall positive outlooks for the California, Massachusetts, and Hawaii markets.
"We remain bullish in 2012 on all market segments in the U.S. and most of the 23 states we cover in this report," said Shayle Kann, Vice President at GTM Research. "However, 2013 is an open question. The impacts of an import tariff on solar cells imported from China, as well as the expiration of the 1603 Treasury Program, will be felt most next year. This could coincide with a trough of demand in New Jersey and California's adjustment period into a post-California Solar Initiative (CSI) world to create a temporary slowing of growth. However, we expect the U.S. market to regain momentum thereafter and continue along its path to become a global PV market leader by 2015."
While the demand for solar energy in the U.S. grows, and the cost of solar falls, U.S. solar panel manufacturers continue to face increased global competition and uncertainty surrounding global trade disputes. In Q1 2012, U.S. solar panel production amounted to just 160 MW compared to 335 megawatts in Q1 2011.
Key Findings for PV:
*PV installations in Q1 2012 reached 506 MW, up 85 percent over Q1 2011.
*New Jersey was the largest state market, with 174 megawatts of installations in Q1 2012.
*Pricing for polysilicon and PV components continued to exhibit softness in Q1 2012 due to the persistence of the global oversupply environment that the industry has faced since early 2011.
*Blended module prices for Q1 2012 were down to $0.94 per watt, a staggering 47 percent lower than Q1 2011 levels of $1.78 per watt.
*Installed prices fell in every market segment year-over-year compared to Q1 2011.
*Residential installed prices fell 7.3 percent, commercial installed prices fell 11.5 percent, and utility prices fell 24.7 percent over Q1 2011.
*The overall blended average installed price fell 17.2 percent year-over-year.
*Cumulative operating PV capacity in the U.S. now totals 4,427 megawatts (direct current).
Key Findings for CSP:
*Abengoa's Solana Generating Station received a $125 million investment from Capital Riesgo Global, a subsidiary of Banco Santander, for an equity stake in the project.
*Construction of the power tower at the Crescent Dunes Solar Energy Project was completed in February 2012.
*A total of 1.1 gigawatts (alternating current) of CSP are now under construction.
Some states saw their rankings improve significantly this quarter compared to where they stood in 2011: Hawaii, Massachusetts, North Carolina, New Jersey, Florida, and Tennessee all moved up in the rankings. Others states that lost ground in comparison were California, Colorado, New York, and Pennsylvania.
About U.S. Solar Market Insight:
The U.S. Solar Market Insight: 1st Quarter 2012 report (http://www.greentechmedia.com/research/solarinsight) is the most detailed and timely research available on the continuing growth and opportunity in the U.S. The report includes analysis of photovoltaic (PV) and concentrating solar power (CSP) technologies, identifying the key metrics that will help solar decision-makers navigate the market's current and forecasted trajectory.
About GTM Research:
Greentech Media delivers news, research, and analysis in the business-to-business greentech market. Using an integrated platform, we produce high quality products, whether it is industry news, market research or networking events. GTM Research, the research arm of the company, produces in-depth market reports and is the publisher of PVNews, a monthly solar market tracker. Greentech Media is headquartered in Boston, MA, with operations in New York, NY, and San Francisco, CA. For more information, visit www.greentechmedia.com.
About SEIA:
Established in 1974, the Solar Energy Industries Association is the national trade association of the U.S. solar energy industry. Through advocacy and education, SEIA and its 1,000 member companies are building a strong solar industry to power America. As the voice of the industry, SEIA works to make solar a mainstream and significant energy source by expanding markets, removing market barriers, strengthening the industry and educating the public on the benefits of solar energy. www.seia.org
Featured Product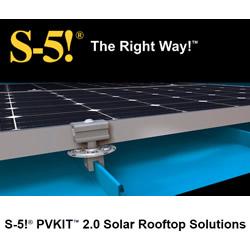 The concept of combining PV arrays with standing seam metal roofing is growing-for good reasons. Metal roofs have a life expectancy of more than 40 years. Shouldn't the mounting system last as long? With S-5! zero-penetration attachment technology and PVKIT 2.0, the solarized metal roof is the most sustainable system available -and without compromising roof warranties! PVKIT 2.0 is the also the best solution for attaching PV modules directly to any exposed fastener metal roof.