The world's largest exhibition for the solar industry closed on Friday, June 15, in Munich
Munich, June 18, 2012 – The world's largest exhibition for the solar industry Intersolar Europe which took place in Munich, closed on Friday, June 15. Approximately 66,000 visitors and 1,909 exhibitors from 160 and 49 countries respectively were represented at the exhibition from June 13-15, making this year's Intersolar Europe even more international than last year's event. Against a background of ongoing consolidation in several sectors of the solar industry, the organizers were able to report a positive out-come to the exhibition. Both visitors and companies within the industry showed particular satisfaction with the thematic and technological focus of the event. The central topics of electricity storage and grid integration were especially well represented and were extremely well received. Other topics such as Large-scale Photovoltaic Plants and Solar Process Heat also aroused a great deal of interest and thus confirmed Intersolar Europe's position as a central platform for innovation within the industry. Around 2,000 experts from industry and science met to discuss the latest developments in technologies and markets at the Intersolar Europe Conference, held in parallel to the exhibition, and its side events.

From June 13 to 15, some 66,000 visitors from 160 countries flocked to Intersolar Europe at Messe München. A total of 1,909 exhibitors from 49 different nations presented their technologies and services in the fields of photovoltaics, PV production technologies and solar thermal technologies in 15 exhibition halls and an outdoor area, which together span 170,000 square meters of exhibition space. This year, 54% of exhibitors at Intersolar Europe were from abroad. With 871 exhibitors present, Germany was the best represented country, followed by China with 388, Italy with 78, Spain with 48, and Taiwan and Austria with 46 companies each. In the case of visitors, 40% made the journey to Munich from outside Germany.
Electricity storage and grid integration at Intersolar Europe
The key topics of electricity storage and grid integration met with a particularly good response this year. In the field of electricity storage alone, more than 140 international exhibitors this year presented the latest products and solutions ranging from small battery storage systems through combinations of different storage systems with fuel cells to large storage solutions for industry and commerce.
The PV ENERGY WORLD special exhibit, which focused on the topics of electricity storage and grid integration, showcased the entire spectrum of available technology. In addition to the exhibition, expert presentations and panel discussions at the special exhibit forum were very well attended and prompted many discussions on the future of each technology.
Huge crowds at PV and E-Mobility special exhibit
This year the new special exhibit PV and E-Mobility attracted particular attention. Thousands of visitors crowded round the combinations of PV carports, charging stations and state-of-the-art electric vehicles displayed by Intersolar Europe in the outdoor exhibition area at Messe München. Together with a total of 11 partners, the exhibition demonstrated the latest technological standards and allowed visitors to experience the e-mobility of the future. Test drives in a range of vehicles from e-bikes to roadsters rounded off the program.
The entire solar thermal spectrum
This year's Intersolar Europe also presented the latest developments in all areas of the solar thermal technology industry: from solar process heat for industrial manufacturing processes through innovative heating concepts to large-scale solar thermal plants. The new topic of Heating with Solar Power, as opposed to using solar thermal technologies, was also the subject of much debate at the exhibition, and was highlighted as part of the conference and accompanying programs.
The German Solar Industry Association (BSW Solar), the exclusive partner of Intersolar Europe, provided information on the development of solar thermal markets. The association presented its new Solar Thermal Roadmap study at the exhibition and painted a positive picture: According to the study's findings, the German solar thermal market has the capability to grow sevenfold by 2030, while the number of jobs in this sector could double by as early as 2020.
Intersolar AWARD celebrates anniversary
On June 13, the Intersolar AWARD was presented for the fifth time running. The solar industry's international award pays tribute to companies, products and services in the categories of Photovoltaics, Solar Thermal Technologies and PV Production Technologies. The technology prize was awarded to nine companies at an official ceremony, with three prize winners in each category.
The winners for 2012 were MBJ Services GmbH, Hamburg, Germany, SolarEdge Technologies GmbH, Grasbrunn, Germany, Solon Corporation, Tucson, USA, Soltigua – Laterizi Gambettola SRL, Gambettola, Italy, Tigi Ltd., Petah Tikva, Israel, TVP Solar SA, Geneva, Switzerland, Isra Surface Vision GmbH, Herten, Germany, Pasan SA, Neuchâtel, Switzerland, and Gebr. Schmid GmbH, Freudenstadt, Germany, in collaboration with Schott Solar AG.
International experts meet at Intersolar Europe Conference
The Intersolar Europe Conference took place in parallel to Intersolar Europe from June 11–14, 2012, in the ICM – Internationales Congress Center München. This year some 400 speakers and 2,000 attendees participated in the meeting of international experts from across the industry. The highlights of this year's conference were the topics of Grid Stability, State-of-the-Art Storage Technologies and Large-scale Photovoltaic Power Plants. In the area of solar thermal technologies, the topics Process Heat, Solar Cooling and Solar Heating Concepts occupied the limelight. Another key topic at this year's event was that of international markets and their future development. Several sessions on individual markets across the world took place throughout the conference, including the all-day session on June 13 entitled Global PV Markets: MENA Region. Alongside the conferences, workshops and seminars, an array of networking events invited participants to exchange information and ideas with international experts.
Intersolar Europe 2013 takes place from June 19-21 at Messe München.
Further information on Intersolar Europe can be found at www.intersolar.de
Partners of Intersolar Europe
Intersolar Europe is supported by the leading solar industry associations: the German Solar Industry Association (BSW-Solar) as an exclusive partner, the German Solar Energy Society (DGS), the European Solar Thermal Industry Federation (ESTIF), the International Solar Energy Society (ISES), the SEMI PV Group, and VDMA-PV, the platform for photovoltaic production equipment within the German Engineering Association. With the support of the European Photovoltaic Industry Association (EPIA).
Sponsors of the Intersolar Europe Conference
Hanwha SolarOne Company Ltd., ReneSola Ltd., Dow Corning GmbH, Lightway Green New Energy Co. Ltd., Schneider Electric SA, Risen Energy GmbH and Bosch Solar Energy AG, Erfurt.
About Intersolar
With over 3,500 exhibitors and 120,000 visitors spanning three continents, Intersolar is the world's leading exhibition series for the solar industry.
Intersolar's storied history of international exhibitions and conferences spans more than 20 years. In 2008, Intersolar North America in San Francisco became the second exhibition after Intersolar Europe. This was followed by Intersolar India in 2009, which has been held in Mumbai since 2010, and Intersolar China in Beijing, which was launched in 2011.
Featured Product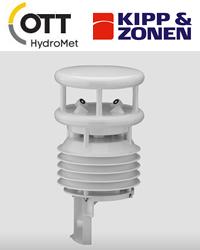 The WS50PV is an affordable, compact all-in-one weather sensor measuring the most critical parameters for commercial and industrial PV monitoring. Equipped with a suite of professional measuring sensors, the WS50PV can handle air temperature, relative humidity, barometric pressure, wind direction, and wind speed in one efficient housing to simplify mounting. Add an external temperature or rain sensor to the single-wire digital Modbus interface for fast and easy integration. The WS50PV is the tool you need for unlocking solar energy performance.