First of its Kind Solution Features Transformer, Load Shedding, Bypass and Distribution Capabilities
ROCKLIN, Calif., and TORONTO, June 19, 2012—SMA announces the availability of its Smartformer, a transformer and distribution box that is compatible with SMA's Sunny Island inverters. Available in the North American Market, the UL certified Smartformer facilitates easy application for off-grid or grid-tied battery backup single Sunny Island systems. With this product SMA continues its efforts to improve the performance of battery backup PV power systems.

This practical solution can be utilized for systems using Sunny Boy inverters up to 6,000 W. It employs a highly efficient toroidal 120/240 V autoformer to provide 240 V AC distribution for single Sunny Island systems. The Smartformer has step-up and step-down options for supply loads, enabling a highly efficient, dependable system that is also easy for users to maintain.
"The step-up and step-down options that the Smartformer provides for single Sunny Island systems increases design flexibility for off-grid or grid-tied battery backup systems," said Jurgen Krehnke, president and general manager of SMA America and president of SMA Canada. "This solution is unique because it includes a bypass switch and a load shedding relay for battery discharge protection, which distinguishes the Smartformer from other autoformers by offering unmatched safety and versatility."
The Smartformer's bypass switch and load shedding relay add additional ease and enhance safety to stand-alone grids. The bypass switch bridges the system to allow for easy, safe maintenance and direct grid operation without disrupting power to backed-up loads. The load shedding relay offers protection against deep discharge of a system's batteries to minimize power disruption and extend battery life.
SMA's Smartformer features internal over-current protection, simplifying installation. The toroidal transformer offers 99 percent efficiency. It has an operating temperature range of -25 C to 60 C.
The Smartformer is paired with SMA's US series of Sunny Island battery-based inverters, equipped with best-in-class grid and battery management functions, including monitoring. The Sunny Island acts as system manager to collect real-time data and make intelligent decisions based on battery state of charge, state of health, electrical loads and generation capacity. When used with the Smartformer, a Sunny Island system will use batteries more efficiently before activating a backup energy source.
About SMA
The SMA Group generated sales of €1.7 billion in 2011 and is the global market leader for solar inverters, a key component of all PV plants. It is headquartered in Niestetal, near Kassel, Germany, and is represented in 20 countries on four continents. The Group employs more than 5,500 people worldwide, plus a number of temporary employees that varies on a seasonal basis. SMA's broad product portfolio includes a compatible inverter for every type of module on the market and for all PV plant sizes. The product range includes inverters both for grid-connected PV plants and for off-grid systems. SMA can therefore provide an ideal inverter solution for all plant sizes and types. Since 2008, the Group's parent company, SMA Solar Technology AG, has been listed on the Prime Standard of the Frankfurt Stock Exchange (S92) and also in the TecDAX index. In recent years, SMA has received numerous awards for excellence as an employer and in 2011 and 2012 achieved first place in Germany's nationwide Great Place to Work® competition. www.SMA-America.com/www.SMA-Canada.ca
Featured Product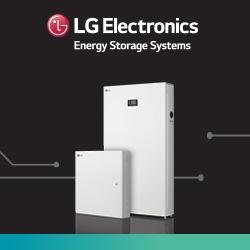 Meet LG Electronics Home 8 Energy Storage System (ESS), a whole home battery backup solution built with installers and their homeowner customers in mind. The ready-to-deploy Home 8 features just one SKU and a modular assembly for fast installation. It can be AC-coupled or solar-powered and is engineered with a grid-connected inverter, four battery modules, and a Smart Energy Box featuring a 7'' LCD touchscreen with commissioning wizard for easy setup. Each Home 8 unit can store up to 14.4 kWh of usable power, helping homeowners gain pure independence from the grid. Plus, installers can connect up to four units, bringing customers up to 57.6 kWh of total backup power-all easily managed and monitored through intuitive mobile apps.