Registration Opens for Solar Industry Thought Leadership Event
ATLANTA, June 21, 2012 – Following a successful Solar Exchange West held at the University of California Los Angeles in 2011, the Siemens-hosted Solar Exchange West heads to the University of California at Berkeley on August 1, for a day of discovery and dialogue on the latest emerging topics, innovations and trends within the solar industry.

In its third year, the Siemens Solar Exchange thought leadership event has hosted several thousand solar industry leaders, visiting academic "hubs" for renewable energy initiatives, including Arizona State University and North Carolina State University. Siemens recently held its Solar Exchange East event at Rutgers, where more than 300 attendees participated.
In partnership with the University of California at Berkeley, Lawrence Berkeley Labs, Bay Area PV Consortium, Clean Coalition and SEMI, Solar Exchange West provides an opportunity for dialogue among innovators and thought-leaders in the solar industry, including engineering management, OEMs, end users, developers, solution providers, academia, researchers, associations and financial institutions.
"UC Berkeley is delighted to host Solar Exchange West," said S. Shankar Sastry, dean of engineering. "The Bay Area has attracted a high concentration of activity in solar energy, and Berkeley is at the focal point of this activity. We're proud to have a wide variety of faculty researching new materials, design and manufacturing, and other innovations that will lead to improved performance and increased production in solar photovoltaics."
The event, which is geared towards professionals currently working in the solar industry, will be held at the International House and Chevron Auditorium on the campus of the University of California in Berkeley.
The event will feature round-table networking sessions, allowing attendees to increase their knowledge of products, solutions, services and associates within the solar industry and gather new perspectives and learn new methods.
"Thought leadership and working together in a collaborative environment is critical when working towards a common goal of encouraging economic development and job creation in the renewable and solar energy sectors." said Bettina Weiss, vice president, SEMI PV Group.
Topics for the event include:
· Facilitating the high penetration of solar through distributed generation and intelligent grids,
· An overview of solar policy and wholesale distribution generation and
· Fulfilling California Governor Jerry Brown's vision for 12GW of clean, local energy by 2020
· Other topics may include panel manufacturing, energy storage and related technologies, permitting and balance of system costs, smart metering and net monitoring, solar PV projects on university campuses and the bankability of solar projects in California.
Dr. Ramamoorthy Ramesh, director of the SunShot Initiative and Solar Energy Technologies Program for the Department of Energy will be the keynote speaker.
The event is free to attend, but registration is required. Individuals interested in participating may register at www.usa.siemens.com/solarexchange.
Event host, Siemens, has been committed to the solar industry from as early as the 1950s. Siemens offers horizontally and vertically integrated products for process, line and machine automation, as well as field operations with products and systems such as inverters, tracking control, wireless communication and other automation components.
For more information about the Siemens Industry, Inc. solar portfolio, visit www.usa.siemens.com/solartechnologies.
Siemens Industry Sector is the world's leading supplier of innovative and environmentally friendly products, solutions and services for industrial customers. With end-to-end automation technology and industrial software, solid vertical-market expertise, and technology-based services, the sector enhances its customers' productivity, efficiency and flexibility. With a global workforce of more than 100,000 employees, the Industry Sector comprises the Industry Automation, Drive Technologies and Customer Services Divisions as well as the Metals Technologies Business Unit. For more information, visit http://www.usa.siemens.com/industry.
The Siemens Industry Automation Division supports the entire value chain of its industrial customers – from product design to production and services – with an unmatched combination of automation technology, industrial control technology and industrial software. With its software solutions, the division can shorten the time-to-market of new products by up to 50 percent. Industry Automation comprises five Business Units: Industrial Automation Systems, Control Components and Systems Engineering, Sensors and Communications, Siemens PLM Software and Water Technologies. For more information, visit http://www.usa.siemens.com/automation.
Featured Product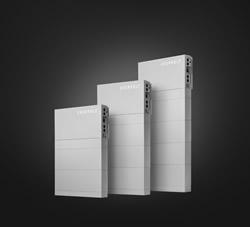 Renewable energy stored in an EVERVOLT home battery system is the perfect backup plan against an uncertain utility grid and weather events. Run key appliances longer and live life when the unexpected happens. EVERVOLT battery storage systems are covered by a complete 12-year warranty from Panasonic.