Strong Year-End Demand Motivates Aggressive Cost Reductions Across the Value-Chain as PV Prices Continue to Fall
Santa Clara, Calif., June 25, 2012—The leading metrics influencing PV industry supply and demand (module production, supply and market-demand) are forecast to come to within 8% of the second-half market demand of 17.2 GW, according to recent findings in the latest NPD Solarbuzz Quarterly report. This follows two years of turbulent over-capacity, over-supply, and inventory build in both the upstream and downstream segments of the value-chain.

According to Michael Barker, Analyst at NPD Solarbuzz, "The PV industry has been suffering from a significant imbalance between supply and demand for over 18 months, causing severe price erosion and reducing corporate margins. However, confidence in strong market demand during 2H'12, together with prudent capacity utilization, will provide PV market leaders with increased visibility ahead of 2013 strategic planning."
Global PV demand for 2012 is forecast to exceed 30 GW (up 8% Y/Y), driven by strong Q4'12 pull from emerging Asia Pacific regions, in particular China. With a 2H'12 demand of over 5 GW, the growth of the domestic Chinese market will provide welcome relief for Chinese c-Si manufacturers, more than offsetting any impacts from the recent US Department of Commerce (DoC) ruling or potential 'anti-dumping' filings within Europe.
In fact, most leading Chinese module manufacturers are planning for greater demand this year, by as much as 30% above the 30 GW mark. This optimism comes from year-end surges seen before in the PV industry, a greater number of emerging countries added to the PV demand-mix, and possible upside from new ground-mount projects whose return-on-investments are decoupled from (legacy) regional incentives.
Increased module shipments will be driven initially by downstream integrators, restocking inventories during Q3'12 in expectation of the year-end demand surge. However, capacity expansion plans remain largely on hold for 2H'12, with the exception of leading Taiwan cell makers that are currently running at maximum utilization levels following the preliminary DoC ruling.
ASPs Declining Faster than Production Costs
Having been the default means to reduce cost during 2011, polysilicon ASPs are forecast to decline by less than 10% in 2H'12. Therefore, c-Si manufacturers are now forced to prioritize non-silicon cost-reduction as the only means of combating continued module ASP declines. Together, total silicon and non-silicon processing costs are forecast to decline by 20-35% during 2012, but with the non-silicon portion set to fall by up to 50%.
During Q1'12, module processing costs surprisingly became the largest part of total silicon and non-silicon costs. However as the least technically-challenging segment of the manufacturing chain, it is not surprising that module processing costs are now set to decline by the greatest amount. Leading Chinese c-Si manufacturers are expected to reduce module costs by over 40% during 2012, with upside for further cost reductions in 2013.
Yet, despite these concerted efforts on cost reduction, c-Si module ASPs are forecast to decline by an even greater amount during 2012 (25-45%). Therefore, while supply/demand equilibrium is set to provide a more stable industry environment, the focus on cost-reduction will remain the most important action item for manufacturers moving into 2013.
About NPD Solarbuzz
NPD Solarbuzz is a globally recognized market research business focused on solar energy and photovoltaic industries. Since 2001, NPD Solarbuzz has grown its client base to include many of the largest global PV manufacturers, major investment banks, equipment manufacturers, materials suppliers, hedge fund companies, and a vast range of other multi-nationals. NPD Solarbuzz offers a wide array of reports, including Marketbuzz, an annual global PV industry report, and Solarbuzz Quarterly, which details both historical and forecast data on the global PV supply chain. The company's research also provides annual downstream PV market reports by region for Europe, Asia Pacific and US markets. In addition, Solarbuzz.com is a recognized and respected online resource within the solar industry. For more information, visit www.solarbuzz.com or follow us on Twitter at @Solarbuzz.
About The NPD Group, Inc.
The NPD Group is the leading provider of reliable and comprehensive consumer and retail information for a wide range of industries. Today, more than 2,000 manufacturers, retailers, and service companies rely on NPD to help them drive critical business decisions at the global, national, and local market levels. NPD helps our clients to identify new business opportunities and guide product development, marketing, sales, merchandising, and other functions. Information is available for the following industry sectors: automotive, beauty, entertainment, fashion, food, home and office, sports, technology, toys, video games, and wireless. For more information, contact us or visit npd.com and www.npdgroupblog.com.
Featured Product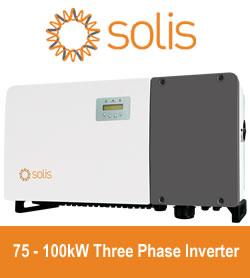 Solis75kW - 100kW series high-power string inverters are widely used in industrial and commercial rooftops. Solis's new three-phase string inverter is the first choice for industrial and commercial photovoltaics. 75-100kW three phase series string inverter have Maximum 28 strings input, support "Y" type connection in DC side. Maximum string input current 13A, support bifacial modules access.Supports anti-PID function to improve system efficiency.