Researchers at CSP Today have completed their latest and exclusive publication 'The Internationalisation of CSP: Part 1' featuring the hottest markets to develop CSP at present.
The research team at CSP Today have finalized their first and only account released to date; introducing the main international markets with the utmost potential for the development of CSP in 2012. This 12-page resource features in-depth analysis on the hottest international markets for CSP including China, Morocco, USA, India and South Africa.

With input from industry experts and the latest data on these markets, this guide will provide to its readers a comprehensive overview on how to develop CSP businesses on an international scale, including overviews of CSP specific regulations and incentives available in each region, information on DNI for each country, breakdown on the main industry players currently involved in each area and expert analysis on the long-term future of these markets for CSP.
"It's currently 'make or break' for CSP and the time has come for the industry to react to change and accelerate its evolution" says Director Laura Hernandez from CSP Today. "There is no doubt that expanding into the international arena is now vital to further the profitability of the CSP industry in times of cutbacks. The Internationalisation of CSP will provide exclusive guidance about the prospects for each market, revealing where the focus of investment for CSP should be in 2012 and beyond, to build a profitable CSP business in international markets" Hernandez added; confirming that a second part of the guide will be released soon, with more international markets of interest for CSP.
The guide is free to download, and can be found here: http://www.csptoday.com/csp/content.php
For more information about the 'The Internationalisation of CSP: Part 1' guide, please contact:
Laura Hernández
CSP Today
laura@csptoday.com
Featured Product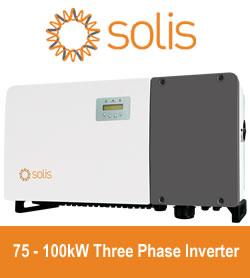 Solis75kW - 100kW series high-power string inverters are widely used in industrial and commercial rooftops. Solis's new three-phase string inverter is the first choice for industrial and commercial photovoltaics. 75-100kW three phase series string inverter have Maximum 28 strings input, support "Y" type connection in DC side. Maximum string input current 13A, support bifacial modules access.Supports anti-PID function to improve system efficiency.