Vincotech's One-Step Mounting Technology – Fast, Reliable, Flexible
June 29th 2012Aiming to cut assembly costs and avert inverter assembly flaws, several companies now offer power modules that can be mounted in a single step. Some use housings with a hole in the middle and a lid to hold the PCB, module and heat sink in place. This certainly facilitates installation and saves time. Vincotech, however, has taken this notion to a whole new level, building on the best of such practices and adding powerful features on top. The company developed a novel Press-fit technology and made it available in a wide range of products, including modules with pre-applied phase change material and thermal grease. These power modules also enable highly efficient low inductance designs.

Vincotech's article looks closer at how Vincotech power modules, engineered for one-step assembly encompassing the PCB and heat sink, make life easier for manufacturers.
For more information please see Vincotech's article about OneStep Mounting:http://www.vincotech.com/news/articles/onestep-mounting.html?campaign_id=OSM.
About Vincotech:
Vincotech, an independent operating unit within Mitsubishi Electric Corporation, is a market leader in power modules in development and manufacturing of high-quality electronic power components for Motion Control, and Renewable Energy applications.
With some 500 employees worldwide, backed by vast experience and a long history in electronics integration, Vincotech leverages these assets to help customers attain maximum market success.
For more information please see: www.vincotech.com
Contact:
Patrick Baginski,
Field Application Engineer - Vincotech GmbH,
patrick[dot]baginski[at]vincotech[dot]com,
Tel: +49 (0)2522 9370 558
Distributed on behalf of Vincotech GmbH by NeonDrum news distribution service (http://www.neondrum.com)
Featured Product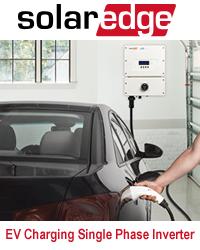 The SolarEdge PV inverter combines sophisticated digital control technology with efficient power conversion architecture to achieve superior solar power harvesting and best-in-class reliability. The fixed-voltage technology ensures the solar inverter is always working at its optimal input voltage over a wider range of string lengths and regardless of environmental conditions. A proprietary data monitoring receiver has been integrated into the inverter and aggregates the power optimizer performance data from each PV module. This data can be transmitted to the web and accessed via the SolarEdge Monitoring Portal for performance analysis, fault detection and troubleshooting of PV systems.