The Florida Renewable Energy Producers Association(FREPA) has been chosen Member of the Week by the 25x25 Alliance. The 25x'25 Alliance is a powerful national coalition united behind the goal of securing 25 percent of the nation's energy needs from renewable sources by the year
FOR IMMEDIATE RELEASE

Florida Renewable Energy Producers Association is named the National 25x25 Alliance member of the week
Tallahassee, Florida- The Florida Renewable Energy Producers Association(FREPA) announce that it has been chosen Member of the Week by the 25x25 Alliance. The 25x'25 Alliance is a powerful national coalition united behind the goal of securing 25 percent of the nation's energy needs from renewable sources by the year 2025. To date, the 25x'25 goal has been endorsed by nearly 1,000 partners, 35 current and former governors, 15 state legislatures and the U.S. Congress through The Energy Independence and Security Act of 2007. The Florida Renewable Energy Producers Association is a leading partner organization in Florida.
" We are honored to be recognized for our work and our commitment to renewable energy and bringing more alternative fuels into the marketplace. It is befitting that this news also comes when we are preparing for our 5th Annual Sunshine State Renewable Energy Expo and Symposium at Sanibel Island on July 26-27, 2012. Here in Florida, we are blessed with a robust agricultural community and leaders who understand the important role that renewable energy and alternative fuels must play in Florida as a matter of national security and a means to live a more sustainable lifestyle. Working with the 25x25 coalition has allowed us to make an impact not only in Florida, but to weigh in on national policy. The 25 x25 coalition is what keeps all farm to fuel and energy enthusiast fighting together, and we will continue to do our part whenever called upon, said FREPA President, Michael Dobson"
##
Featured Product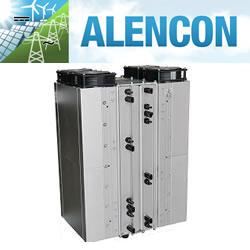 Alencon Systems is the premier manufacturer of high power, high voltage DC:DC optimizers for alternative energy applications including solar, battery energy storage, Microgrids, Fuel Cells and Electric Vehicle charging. Alencon's DC:DC converter offerings include the SPOT, BOSS and CUBE series DC:DC converters. The SPOT is a modular, uni-directional DC:DC solution ideal for solar applications. The BOSS is a modular, bi-directional unit for use with battery energy storage. The CUBE is a monolithic DC:DC converter which is available in both uni-directional and bi-directional modalities. Pictured above, is the Alencon SPOT.