Testing program could integrate algae harvester and frack water processor into Process Demonstration Unit for reference by industry and researchers
Los Angeles, California - July 25, 2012 - OriginOil, Inc. (OTC/BB: OOIL), the developer of an energy industry cleantech process for harvesting algae and cleaning up oil and gas water, announced today it has received purchase orders for two test scale units from the United States Department of Energy's Idaho National Labs (INL) under its research agreement. One unit is designed to dewater algae continuously and with very low energy, while the other can recover 98 percent of contaminants from frack water in a single pass, as shown in third party testing.

Deborah T. Newby, molecular biologist at INL's Biofuels and Renewable Energy Department commented, "We are anxious to test OriginOil's new equipment in our algal dewatering research. The system appears to have the potential to significantly reduce the algal dewatering barrier, allowing us to dewater large quantities of algae for use in applications, including the production of formulated feedstocks blended from algal and terrestrial biomass."
Newby added, "We also are interested in testing OriginOil's system for processing frac flowback water. The boom in hydraulic fracturing is urgently forcing new practices in water conservation, and OriginOil's system may be a key part of the answer."
In an in-kind transaction under its Cooperative Research and Development Agreement (CRADA) with OriginOil, INL will purchase an Algae Appliance(TM) Model 4, which can continuously concentrate up to four liters of algae production per minute; and a Solids Out of Solution(TM) (SOS) Model 2K, which is capable of handling first-stage cleanup of up to 2,000 gallons of frac flowback water per day.
OriginOil recently shipped the first production unit of its Algae Appliance(TM) Model 4 harvester to its joint venture Ennesys in Paris, France, for a test of urban energy generation using algae in the La Défense complex.
In operation since 1949, the Idaho National Laboratory (www.inl.gov) is a science-based, applied engineering national laboratory dedicated to supporting the DOE on energy research and national defense. Its mission is to ensure the nation's energy security with safe, clean, competitive, sustainable energy systems and unique national and homeland security capabilities.
About OriginOil, Inc. (www.originoil.com)
OriginOil has developed an energy industry cleantech process for harvesting algae and cleaning up oil and gas water. Operating at the first stage of extraction, this high-speed and chemical-free process can be embedded in other systems to improve performance. Originally invented to solve the biggest problem in algae production, it is now finding demand in oil and gas fracking and production water cleanup, an immediate and fast-growing market that desperately needs clean technology solutions. learn more about OriginOil®, please visit our website at www.originoil.com.
Featured Product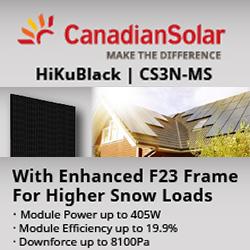 Aesthetic appearance for residential systems: With black backsheet & black frame, Power range 380 ~ 405 W, Low power loss in cell connection. Enhanced reliability: · Low temperature coefficient (Pmax): -0.34 % / °C, LID LeTID less than 2.0%, Lower hot spot temperature, Better shading tolerance.