Pilot solar PV-project at College of Environment and Design will allow cross-collegiate student research; Funded in part by student initiatives
Dublin (Georgia), July 31, 2012. – MAGE SOLAR announced today its MAGE POWERTEC PLUS modules are powering the Solar Demonstration Project at the University of Georgia in Athens.

The 19 kW solar-PV rooftop array is located on the former Visual Arts Building which has been refurbished to serve as a living laboratory for the College of Environment and Design. The college will open its doors in the fall semester and be a crucial academic and research tool in the implementation and development of clean energy sources across campus. Several other colleges besides The College of Environment and Design, e.g. the Terry College of Business and the College of Engineering, plan to utilize the pilot project and incorporate monitoring data and other information into their curricula in order to explore the possibilities of broader solar deployment.
The first solar PV-array at the University of Georgia was made possible through the concerted efforts of many UGA students, faculty and staff, in particular the GoGreen Alliance student organization, the Office of University Architects, and the Office of Sustainability. Funding for the project was secured through grants, student fees, and a utility award by the school's Facilities Management Division.
"We believe the demonstration offers a prime opportunity for students and faculty to learn more about the potential for solar energy," says Tim Burgess, UGA's Senior Vice President for Finance and Administration. Kevin Kirsche, Director of Sustainability at USA, adds: "The UGA Solar Demonstration Project is a small stepóbut a significant one in the right direction."
Georgia's flagship academic institution has made a strategic commitment to reduce its total energy consumption 20% by 2020 and is actively participating in the Governor's Energy Challenge, an initiative which promotes energy efficiency and a reduction in state electricity consumption through a number of long-term programs. UGA's Solar Demonstration Project will generate nearly 30,000 kWh of electricity each year while saving $3,000 in energy costs at the same time. Translated into a bigger scale, campus-wide solar deployment would have the potential to create a stream of revenue for a school that has been managing serious budget cuts over the last several years.
"We are honored to be part of University of Georgia's commitment to solar energy, our home state's greatest and most abundant natural resource" says Joe Thomas, President and CEO of MAGE SOLAR. "The Solar Demonstration Project will not only serve as powerful educational tool but also as a symbolic marker as we are entering the clean energy age."
MAGE SOLAR – The Sun on Your Side
MAGE SOLAR USA, headquartered in Dublin, Georgia, specializes in complete solar systems and provides high-quality photovoltaic modules, intelligent mounting systems and high-performance brand inverters. As a subsidiary of the international MAGE GROUP, it uses the Group's 40 years of know-how to develop optimally coordinated system solutions. A competent partner network guarantees profitable solar energy systems for customers throughout the Americas and in 21 more countries in Europe, Asia, Africa, and Australia. In 2011, the company generated U$280 in sales with around 180 employees.
www.magesolar.com
Featured Product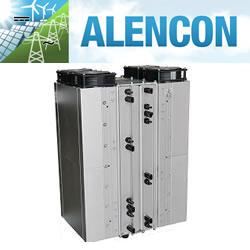 Alencon Systems is the premier manufacturer of high power, high voltage DC:DC optimizers for alternative energy applications including solar, battery energy storage, Microgrids, Fuel Cells and Electric Vehicle charging. Alencon's DC:DC converter offerings include the SPOT, BOSS and CUBE series DC:DC converters. The SPOT is a modular, uni-directional DC:DC solution ideal for solar applications. The BOSS is a modular, bi-directional unit for use with battery energy storage. The CUBE is a monolithic DC:DC converter which is available in both uni-directional and bi-directional modalities. Pictured above, is the Alencon SPOT.