Online summit takes a hard look at the progress to date in securing mission critical systems as the smart grid continues to open new avenues of vulnerability. The event will provide concrete strategies on how to best secure AMI and the end-to-end smart grid ecosystem.
Utilities deploying smart grid and AMI technologies continue to face serious cyber security challenges. Securing SCADA systems, critical infrastructure, distributed intelligent devices, and the end-to-end smart grid IT network is a top priority for energy companies and regulators alike, as the nature and extent of cyber threats to the grid continue to escalate.

To help utilities meet this challenge, the Smart Grid Observer will host a full-day, 100% online Smart Grid Security Virtual Summit on Thursday, August 9. The event brings together a range of top utility practitioners and security experts to discuss the very latest technology advances, lessons learned, and future strategies for securing the evolving electric grid.
"This event features a great mix of utility, regulatory, and technology expertise," says Daniel Coran, program manager for the Virtual Summit. "We expect to have a great range of perspectives and some very interesting discussions."
Confirmed speakers Include:
• William Lawrence, Chief Technologist, Energy & Cyber Security, Lockheed Martin
• Ward P. Pyles, Senior Security Analyst, The Southern Company
• William Souza, Manager - Security Integration, Reliability Services, PJM Interconnection
• Patrick Miller, President and CEO, EnergySec
• Alan Rivaldo, Cyber Security Analyst, Public Utility Commission of Texas
• John Stewart, Specialist Engineer, Power Control Systems, Tennessee Valley Authority
• Bob Lockhart, Senior Research Analyst, Pike Research
• Theodore A. Wood, Director, Sterne, Kessler, Goldstein & Fox
• Larry Karisny, Director, ProjectSafety
• Phil Smith, President and Chief Technology Officer, TLC Secure
• Rajeev Bhargava, CEO and Founder, Decision-Zone
Topics to be addressed at the event include:
- Detecting and mitigating Advanced Persistent Threats (APTs)
- Information integration across platforms to address security vulnerabilities
- Achieving genuine security, versus mere compliance
- Implementing security solutions across a diverse multi-state environment
- Utility-presented case studies and key lessons learned to date
- Latest updates: what regulators want to know from utilities regarding cyber security
- Best practices for addressing critical vulnerability points in the organization
- Future technology and market trends in smart grid cyber security
- The current state of intrusion detection systems: addressing weak points
- Security issues surrounding cloud computing, Big Data, and the smart grid
- Securing the end-to-end smart grid ecosystem across systems and suppliers
- Latest enabling technology applications and developments
Attendees at the 100% online Virtual Summit may access all sessions throughout the day, coming and going to fit their schedule, as well as view recorded sessions (audio + PowerPoint) for 3 months after the event. The online format makes it easy, convenient, and cost-effective to interact live with presenters without time away from the office.
For full information and to register, visit: http://www.smartgridobserver.com/index-sgs.htm
MEDIA CONTACT:
Daniel Coran, Editor
Smart Grid Observer
+1-815-331-6133
dcoran@smartgridobserver.com
Featured Product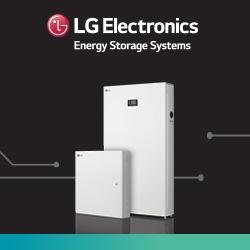 Meet LG Electronics Home 8 Energy Storage System (ESS), a whole home battery backup solution built with installers and their homeowner customers in mind. The ready-to-deploy Home 8 features just one SKU and a modular assembly for fast installation. It can be AC-coupled or solar-powered and is engineered with a grid-connected inverter, four battery modules, and a Smart Energy Box featuring a 7'' LCD touchscreen with commissioning wizard for easy setup. Each Home 8 unit can store up to 14.4 kWh of usable power, helping homeowners gain pure independence from the grid. Plus, installers can connect up to four units, bringing customers up to 57.6 kWh of total backup power-all easily managed and monitored through intuitive mobile apps.