Stahlin Non-Metallic Enclosures, manufacturer of the world's most frequently specified fiberglass enclosure products, will have on display J and N Series for solar applications at Solar Power International 2012, September 10-13—Booth # 2563.

Stahlin's J Series has been delivering proven performance for nearly 50 years with more than 300 configurations and 13 sizes ranging from 6x4 to 20x16 providing reliable NEMA rated 4X, 12 and 6P. This simple but elegant concept offers unobstructed side-walls, built in mounting capabilities and the strength characteristics associated with a protective wrap around cover that is hinged, latched or screwed down meets the needs of a variety of solar applications.
Key features of the N Series include: rain shield provided for water ingress protection as required, rigid body construction and watertight seal, memory retaining polyurethane gasketing, integral mounting feet for ease of installation on wallmount enclosures, molded in panel mounting inserts and special panel configurations available including dead front panels.
To learn more visit Stahlin Non-Metallic Enclosures at Solar Power International 2012, September 10-13—Booth # 2563.
For more info: www.stahlin.com
Featured Product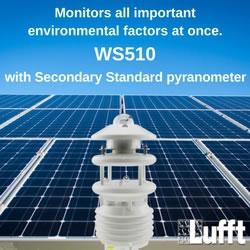 First and only Smart Weather Sensor with integrated Kipp & Zonen CMP10 Pyranometer (secondary standard). From the WS product family of professional intelligent measurement transducers with digital interface for environmental applications. Integrated design with ventilated radiation protection for measuring: Air temperature, relative humidity, air pressure, wind direction, wind speed and radiation. One external temperature or rain sensor is connectable.