The PowerDish installation will help increase TEAD's energy security and attain goals outlined in the Army's Energy Conservation Initiative Program. Backed by the U.S. Army Corps of Engineers.
OGDEN, UT - Aug. 16, 2012 - Infinia Corporation today announced the company's partnership with CDM Smith to provide a 1.5-megawatt installation of Infinia's concentrating solar product - the PowerDish - at the Tooele Army Depot (TEAD), Tooele, UT. The PowerDish installation will help increase TEAD's energy security and attain goals outlined in the Army's Energy Conservation Initiative Program.

Backed by the U.S. Army Corps of Engineers, the Tooele installation is Infinia's largest commercial, utility-scale PowerDish deployment. This project marks a significant milestone and continued validation of Infinia's longstanding proprietary free-piston Stirling technology.
"We are excited for the opportunity to provide Tooele Army Depot with a long-term, dependable clean energy solution," says Infinia CEO, Mike Ward. "It's an honor to be chosen for this installation given their need for secure energy, performance and reliability and we look forward to helping them achieve their sustainable energy goals."
The PowerDish, based on Infinia's proven free-piston Stirling generator platform of energy production products, is an innovative grid inter-connected solar power-generating product that converts the sun's heat into electricity, without the use of water.
Groundbreaking for the Tooele Army Depot project will be held on August 17, 2012. Once complete, the solar array will be spread among 17 acres and reduce energy consumption from the local utility, providing TEAD with a significant portion of their electricity needs.
"This project is a another step in validating both our product and business model," says Ward. "The PowerDish technology sets a new standard in the renewable energy industry, and having a utility-scale installation so close to our headquarters here in Utah is equally inspiring."
Located in Tooele County, Utah, TEAD is currently the Department of Defense's western region conventional ammunition hub for the storage, receipt, issue, maintenance, and demilitarization of ammunition.
To complete project construction, Infinia has partnered with CDM Smith, serving as prime contractor, and Hunt Electric Co. of Salt Lake City UT, serving as electrical subcontractor.
Infinia has deployed its PowerDish product at numerous locations around the globe including: Frito Lay's manufacturing facility in Casa Grande, Arizona; the largest U.S. independent milk producer's processing facility in Yuma, Arizona [under Arizona Public Service's Green Choice distributed generation program]; New Mexico; California; and New Delhi, India.
Read the Article in The Salt Lake Tribune
www.infiniacorp.com
Infinia Corporation is an established leader in developing, manufacturing and applying its proprietary free-piston Stirling generator platform that converts readily available and low cost heat sources like solar, biogas and natural gas, into reliable electrical energy. Infinia is the producer of the PowerDishTM - the world's first Stirling-based solar power generation system suitable for automotive-scale manufacturing and deployment from small distribution-scale arrays to multi-megawatt, utility-scale solar power plants. Established in 1985, Infinia provides flexible, clean, reliable, on- and off-grid applications of Stirling energy products for growing markets in the developing world. For more information on Infinia Corp, its Stirling technology, or the PowerDish solar product, visit www.infiniacorp.com. PowerDishTM is a registered trademark of Infinia Corp.
CDM Smith provides lasting and integrated solutions in water, environment, transportation, energy and facilities to public and private clients worldwide. As a full-service consulting, engineering, construction and operations firm, we deliver exceptional client service, quality results and enduring value across the entire project life cycle. For more information on CDM Smith, visit www.cdmsmith.com
Hunt Electric Co. is a full-service electrical contractor that has been doing business in commercial, industrial, residential, hospitality, highway, government and institutional projects in the Intermountain West Area for over 26 years. Our mission is to create superior customer value through a culture of quality, integrity, performance and versatility. Leading in diversity, Hunt Electric provides six In-House departments including Electrical Contracting, Engineering and Design-Build, Renewable Energy, Data/Communications, Traffic and Infrastructure, and Preventative Maintenance and Service.
Featured Product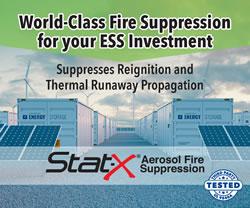 Stat-X® condensed aerosol fire suppression is a solution for energy storage systems (ESS) and battery energy storage systems (BESS) applications. Our Stat-X condensed aerosol fire extinguishing product was tested for efficacy in suppressing li-ion battery fires. It was found that the product successfully extinguished single and double cell battery fires. This testing was conducted in parallel with a large battery fire testing program on behalf of a large energy storage company.