SGS Trade's centre will bring world-leading products and advice to the south west
Specialist renewable energy distributor SGS Trade has opened a 10,000 sq ft warehouse in Exeter, where it stocks world-leading renewable energy products, offers detailed technical advice, and gives customers the benefit of its staff's 100+ years of combined renewable energy experience.

The dedicated distribution centre, which will distribute more than 10 MWp of equipment per year, stores both individual components and full renewable energy kits. It is specifically designed to hold a vast amount of stock that best suits the needs of renewable energy installers while being highly competitive on price.
"The fundamental principal of SGS Trade is to supply the highest quality products for any given job at the best possible prices," said SGS Trade managing director Gabriel Wondrausch.
"We've fully researched every product we stock and sent out our engineers to visit manufacturer's facilities to verify the quality and learn in detail from their specialists. That way we not only know the products we stock inside out, but also we have extensive knowledge of how they work, and can therefore help installers with any questions they have about how to get the most out of them in installations."
SGS Trade is the distribution arm of South West Green Energy Award-winning installer SunGift Solar. Among the world-leading solar PV that it will be stocking are Canadian Solar, Siliken, Solar Frontier, and REC; along with Solar Edge, Solar Max, and Eltec inverters and K2 mounting systems. It will also be the first distributor in the UK to stock BenQ Solar PV panels, following a site inspection in Taiwan by Gabriel earlier this month.
Educated staff
Rather than employing 'standard' warehouse staff, everyone that works at the SGS trade centre has undergone technical training and has a detailed understanding of the systems they stock, so they can give advice to trade customers on the best products for each specific job.
"We're looking to shake up the distribution of renewable energy supplies," added Gabriel, "because we believe installers should have access to the best technical information. And because we've built up such a strong relationship with some of the world's top manufacturers over the past seven years, we can pass on that knowledge to all of our customers."
SGS customers are also encouraged to visit the centre in Exeter so that friendly warehouse staff can introduce them to the range, show them the equipment first hand, and give them detailed product information.
Heading up the SGS trade team are distribution manager Scott Oldfield, Donna Cordey, and Dan Thorne.
About SGS Trade
SGS Trade is the distribution arm of award-winning renewable energy installer SunGift Solar. As SunGift has been installing bespoke renewable energy systems for more than seven years, it has grown up with many of the world's leading manufacturers and built strong relationships with them. It is now using this superior knowledge to distribute to and educate other installers about the best products in the marketplace.
About SunGift Solar
SunGift Solar is a renewable energy specialist that offers a personal design service and tailored systems to meet its customers' exact requirements. It fits a whole range of renewable energy technologies – from solar panels and ground-source heat pumps to biomass boilers and small wind turbines.
Formed in 2005 by owner Gabriel Wondrausch, the friendly Exeter-based company employs 46 members of staff, and was one of the first installers in Devon to be accredited to the government's microgeneration scheme. SunGift Solar is acclaimed by the industry, winning the 2011 and 2009 South West Green Energy Award for Renewable Energy Installer or Supplier of the Year, and finishing runner up in the same category in 2010.
Using the highest-quality systems is an important part of SunGift Solar's philosophy, and it constantly strives to use the latest, cutting-edge equipment, combined with the highest standards of workmanship.
For further information contact SunGift Solar on 01392 213912, or visit www.sungiftsolar.co.uk.
Featured Product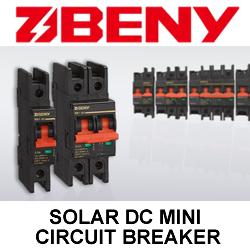 The BB1-63 modular miniature circuit-breakers can be used in solar DC circuits up to 1200 VDC (4-poles execution). Application in solar DC circuits, battery energy storage systems and UPS. Arc flash barrier design keeps solar equipment more safe and reliable. For DC circuit over-current protection.