Diverse solar portfolio helps manufacturers increase efficiency, lower costs
FLORHAM PARK, NJ, September 11, 2012 -- BASF will showcase its portfolio of innovative products and solutions for the solar industry at Solar Power International 12, September 11-13, at the Orange County Convention Center in Orlando, Florida.

Visitors to booth 1671 will be able to learn about sustainable solutions for solar photovoltaics and solar thermal products that help increase efficiencies and lower manufacturing or product costs. BASF experts will be available to discuss new development opportunities.
BASF's portfolio for the solar industry includes:
Light stabilization for film manufacturing and framing and support components
Tinuvin® 1600 is a high performance ultraviolet (UV) light absorber for transparent outdoor thin section applications. The product exhibits UV absorption capacity to enable biaxially-oriented polyethylene terephthalate films be a key component for photovoltaics (PV) and other solar power devices. The high UV absorption capacity helps extend the durability and life expectancy of solar products. With Tinuvin 1600, polyester films (PET) become a viable alternative for PV, getting the solar industry closer to grid parity by making solar energy more cost effective.
Plastic additives
Plastic additives enable all plastics used in photovoltaic modules to withstand exposure to both heat (Irgafos® and Irganox®) and sunlight (Chimassorb®, Tinuvin® and Uvinul®). They are tailor-made for the various plastic resins used in photovoltaic applications, such as encapsulates, frames, back sheet films and electrical components.
Wafer production and cell surface chemistry
The Pluriol® series has a range of custom-made wafer cutting fluids which allow wafer cutters the flexibility to design cutting slurries that match its process requirements. The Pluriol portfolio ensures optimized wafer products economies through constant high quality and yield, less wafer defect and breakage, low energy consumption, minimal kerf loss and high recycling efficiency.
BASF's SELURIS® Clean portfolio offers and develops solutions for etching, texturizing, doping and cleaning mono- and poly-crystalline solar cells. The product line is made stronger by the innovative eco-friendly cleaning fluid SELURIS® Clean which allows for more efficient hydrophilization and passivation of the solar cell wafers. The cleaning fluid allows for efficient wetting and even distribution of the phosphoric acid on the wafer, consequently optimizing cell performance. SELURIS Clean functions in low temperatures which helps control manufacturing costs.
Conductive inks and pastes
CypoSol® L-series is a range of metallization inks and pastes for both the screen printing process and the new laser transfer printing (LTP) process.
The CypoSol L line is composed of water and solvent-based inks for LTP technology, providing the highest cell performance and reduced processing costs. The CypoSol L-series also helps lessen process costs and ink loss.
The CypoSol® S is a series of standard pastes for the screen printing process. The pastes are available in lead-free and ensure perfect printability and maximum cell efficiency.
Solar framing and support structures, connectors and junction boxes
COLO-Fast® polyurethane (PU) casting system offers a fast and economical framing of photovoltaic and solar panels. The UV-stable and weather-proof PU casting system is able to replace traditional aluminum frames. Additionally, COLO-Fast offers customers a choice of color and a variety of frame designs that fulfill high aesthetic demands. The technology enables the installation of clamping elements and electrical components in one step. COLO-Fast also provides faster production times, improved edge protection, extreme resistance to weather and high UV resistance.
Ultramid® A3X2G7 and Ultramid® A3XZG5 for connectors and junction boxes are certified on the basis of the f1 weathering test (UL). BASF's Petra® PET Thermoplastic Polyester, Ultradur® PBT Thermoplastic Polyester and Ultramid® Polyamide (PA6) plastics are ideal for frame, attachment and mounting applications because they lower installation cost through part integration, exhibit high impact resistance at low temperatures and offer exceptional UV resistance. The plastics are ideal for solar PV and concentrated solar power (CSP) plants.
BASF solutions for solar thermal insulation
Basotect® melamine foam is used for insulating the Gobi line of solar flat plate collectors manufactured by Heliodyne of Richmond, California, one of the oldest and largest manufacturers of solar collectors in the United States. The Gobi line is Heliodyne's flagship product that has continuously been refined and optimized for over 30 years.
Flat plate solar collectors use solar energy to produce hot water for residential and commercial buildings. Water or heat transfer fluid is heated as it passes through panels that are designed to amass heat from the sun. One essential aspect of the collector design is the thermal insulation that is used to retain the heat in the collector.
Solar collectors that are stagnant, meaning that the liquid is not flowing through the collector, can reach temperatures that exceed 350 degrees Fahrenheit. Basotect can withstand these temperatures unlike other polymeric foam insulating materials, such as polyisocyanurate, that start to degrade at 250 degrees Fahrenheit.
Concrete technologies and additives
BASF offers a range of innovative concrete admixtures and fibers for concrete applications, including the foundations of molten salt storage tanks for CSP plants. These admixtures and fibers add various attributes to the concrete in its fresh and hardened states, providing benefits for concrete producers, contractors and owners:
·RheoTEC™ Z-60 is a workability-retaining admixture that promotes consistency in compressive strengths via minimized job-site addition of water, as well as expanded concrete delivery range.
·Delvo® stabilizer is a hydration controlling admixture that provides flexibility in scheduling of placing and finishing operations.
·Glenium® series of high-range water-reducing admixtures offer enhanced workability, and also help in achieving higher compressive strength and flexural strength at all ages.
Thermal energy storage
BASF produces high purity sodium nitrate for thermal energy storage in CSP plants. Molten salt enables grid-stable, dispatchable power production.
To learn more about the BASF's expertise in solar, please visit www.basf.us/solar.
BASF – The Chemical Company
BASF Corporation, headquartered in Florham Park, New Jersey, is the North American affiliate of BASF SE, Ludwigshafen, Germany. BASF has more than 16,000 employees in North America, and had sales of $20 billion in 2011. For more information about BASF's North American operations, visit www.basf.us.
BASF is the world's leading chemical company: The Chemical Company. Its portfolio ranges from chemicals, plastics, performance products and crop protection products to oil and gas. We combine economic success, social responsibility and environmental protection. Through science and innovation we enable our customers in almost all industries to meet the current and future needs of society. Our products and system solutions contribute to conserving resources, ensuring healthy food and nutrition and helping to improve the quality of life. We have summed up this contribution in our corporate purpose: We create chemistry for a sustainable future. BASF posted sales of about €73.5 billion in 2011 and had more than 111,000 employees as of the end of the year. Further information on BASF is available on the Internet at www.basf.com.
Featured Product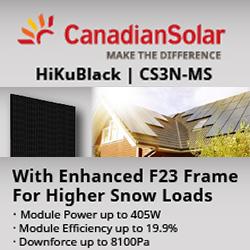 Aesthetic appearance for residential systems: With black backsheet & black frame, Power range 380 ~ 405 W, Low power loss in cell connection. Enhanced reliability: · Low temperature coefficient (Pmax): -0.34 % / °C, LID LeTID less than 2.0%, Lower hot spot temperature, Better shading tolerance.