Advanced glasses increase efficiency of solar components
PITTSBURGH, Sept. 7, 2012 – PPG Industries' (NYSE:PPG) flat glass business will exhibit its

complete line of ultra-low-iron and coated glass products for the solar industry at booth 756
during Solar Power International 2012, Sept. 10-13, at the Orange County Convention Center in
Orlando, Fla.
PPG glass products on display will include the following:
 SOLARPHIRE(R) PV glass provides high transmittance across the entire solar spectrum
and increased solar transmittance in the near-infrared band. In thicknesses of 3.2 and
4.0 millimeters, Solarphire PV glass transmits up to 91 percent of total solar energy to
enhance the performance of solar energy collection components equipped with it.
 Solarphire AR glass features PPG's highly durable proprietary antireflective coating
applied to one surface of a Solarphire PV photovoltaic glass substrate. It has solar
transmittance of 93.6 percent in a 3.2-millimeter thickness, offering the potential to
increase power output of crystalline-silicone modules by up to 7 watts when it is used as
a cover plate.
 Solarphire 2XAR glass features PPG's antireflective coating on both sides of a
Solarphire PV glass substrate. With solar transmittance of 96.3 percent, double-coated
Solarphire 2XAR glass also enhances the efficiency of concentrated solar photovoltaic
(CSP) modules on which it is used.
 Solarphire NaB glass is engineered for solar applications where sodium leaching can
adversely affect the performance of solar panels, reflectors, water heaters and other
devices. Formulated with a transparent barrier coating, Solarphire NaB glass retards the
migration of sodium (Na) and other alkalis to the surface during high-temperature
processing or long-term field exposure. Temperable and highly durable, the glass is
approved for concentrating photovoltaic (CPV) and concentrating solar power (CSP)
applications where high in-use temperatures may be encountered.
 Solarphire HVM solar mirror glass combines a highly transmissive, ultra-clear, low-iron
float glass with a proprietary vapor-deposited mirror coating and a lead-free protective
encapsulant. The combination of these three technologies gives Solarphire HVM glass
the ability to increase the ratio of reflected (captured) solar energy to the incident solar
energy, enabling CSP plants to generate more power at less cost.
In addition to products, PPG will showcase its ability to heat-strengthen glass as thin as 2
millimeters, making it strong and flexible enough to function in a wide range of solar applications. Visitors to the PPG booth will also see a demonstration of the company's proprietary roll-forming technology for real-time production of PV module frames.
To learn more about PPG's advanced glass and coatings technologies for the solar industry, visit booth 756 at Solar Power International, click on www.ppgsolarphire.com or call 1-888-PPG-SUN1 (774-7886).
PPG: BRINGING INNOVATION TO THE SURFACE.(TM)
PPG Industries' vision is to continue to be the world's leading coatings and specialty products company. Through leadership in innovation, sustainability and color, PPG helps customers in industrial, transportation, consumer products, and construction markets and aftermarkets to enhance more surfaces in more ways than does any other company. Founded in 1883, PPG has global headquarters in Pittsburgh and operates in more than 60 countries around the world. Sales in 2011 were $14.9 billion. PPG shares are traded on the New York Stock Exchange (symbol: PPG). For more information, visit www.ppg.com.
Featured Product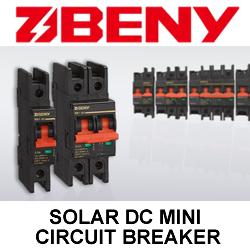 The BB1-63 modular miniature circuit-breakers can be used in solar DC circuits up to 1200 VDC (4-poles execution). Application in solar DC circuits, battery energy storage systems and UPS. Arc flash barrier design keeps solar equipment more safe and reliable. For DC circuit over-current protection.