This technology, ISO-Channel™, guarantees that all signals are protected from environmental and system noise.
Marlboro, MA ─ September 11, 2012 ─ Data Translation, Inc. today announced the release of the DT8824-HV Ethernet module, extending ultra-accurate, high-stability measurements to high voltage ranges. The DT8824-HV features a standard full scale range of ±600V, with input gains of 1, 8, 16, and 32 to provide effective ranges of: ±600V, ±75V, ±37.5V, and ±18.75V. The DT8824-HV provides ±1000V galvanic isolation channel-to-channel on all analog input signals and to the host computer to protect signal integrity. This technology, ISO-Channel™, guarantees that all signals are protected from environmental and system noise.

Applications such as measuring battery stacks for bus vehicles, energy grid transfer from DC voltage to grid-ready AC voltage, and measurement of wind and solar equipment, have needed this capability to measure up to 600 volt ranges with appropriate isolation safeguards. Spiking caused by switching from discharge to charge at coasting puts energy back into the battery, further necessitating the need for isolation at these levels.
According to Fred Molinari, President and CEO, "The DT8824-HV enables new measurement limits for alternative energy measurements without the constraints of older equipment, and furthers the new power grid formation taking place around the world."
The DT8824 has held an industry leading position for the best accuracy and stability. These same attributes are now available with the higher voltage ranges of the DT8824-HV. Accuracy of ±10ppm, temperature coefficient of ±0.05µV/° C, CMRR of greater than 150dB, 1.5ppm maximum noise, all at a sampling rate of up to 4800 Hz per channel.
Additional Resources
Readers can learn more about the DT8824-HV by visiting:
http://www.datatranslation.com/products/dataacquisition/ethernet/DT8824/.
About Data Translation
Data Translation Inc. (www.datatranslation.com) is a leading designer and manufacturer of high performance USB and Ethernet (LXI) data acquisition (DAQ) modules for temperature, voltage, strain, and vibration measurement and analysis, with accompanying software solutions for the test and measurement market. In-house manufacturing in the company headquarters located in Marlboro, MA ensures complete quality control on all products. Additionally, 5-day standard delivery is guaranteed on most shipments, along with free comprehensive technical support.
Featured Product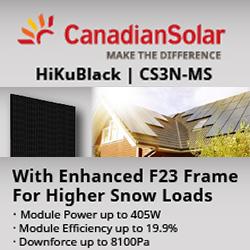 Aesthetic appearance for residential systems: With black backsheet & black frame, Power range 380 ~ 405 W, Low power loss in cell connection. Enhanced reliability: · Low temperature coefficient (Pmax): -0.34 % / °C, LID LeTID less than 2.0%, Lower hot spot temperature, Better shading tolerance.