An electric vehicle expo and "ride and drives" staged in financial district
SAN FRANCISCO--San Francisco's first ever EV Week will open at Justin Herman Plaza, September 17-18, and will feature all electric and plug-in hybrid vehicles from major car manufacturers and car sharing companies, EV charging solutions, including clean energy EV charging, and the opportunity to ride and drive select electric vehicles. EV Week is an initiative of Charge Across Town™, an electric vehicle (EV) education campaign aimed at making San Francisco the leading U.S. city in EV adoption and infrastructure.

EV Week consists of a 2-day Expo featuring new and recently released electric vehicles and plug-in hybrids. Toyota will be showing the RAV4 EV, which combines a Tesla designed and produced battery and electric powertrain with Toyota's most popular SUV model; in addition Toyota will be showing the Prius Plug-In. Both the RAV4 EV and Prius Plug-In will be available for test-drives. Nissan will have many all-electric Leaf's on display and in the ride and drives. DriveNow, the new premium car sharing service from BMW, will have the ActiveE available to drive. Honda and Zipcar have teamed up to showcase the Honda Fit EV. Other car manufacturers and vehicles participating include Serramonte Ford with the Ford Focus Electric, Coda Automotive, Marin Luxury Cars will show a Fisker Karma, and Tesla will bring the Model S. Car Sharing companies, City Car Share, and Get Around will show electric cars from their fleet and peer-to-peer business.
On EV charging and infrastructure, Pacific Gas and Electric (PG&E) will exhibit its all electric pickup truck for emergency response, and focus on smart grid solutions for EVs. SunPower Corporation, who has solar partnerships with car companies and others, will demonstrate how a solar array can work to power EV charging stations. Schneider-Electric will be demonstrating their EV Link family of charging solutions.
For complete information on exhibitors, please see http://www.chargeacrosstown.com/ev-week/.
"We are excited to bring this FREE and FUN event to Justin Herman Plaza to demonstrate what the future of clean, green transportation looks like," said Maureen Blanc, Director, Charge Across Town. "Our goal is to engage with the San Francisco business community, to get employers and employees behind the wheel of these cars, and see how practical, reliable and cool these vehicles really are."
According to Blanc, with 40% of greenhouse gas emissions coming from vehicles in the bay area it makes sense to drive hybrid, plug-in hybrid and all electric vehicles. In addition, the electricity to charge these vehicles is generated from a relatively clean mix of energy sources, including hydroelectric, and a growing portion of renewable energies including solar and wind.
"Charge Across Town is catalyzing the effort with consumers, nonprofits and the business community to get San Francisco EV-Ready," said San Francisco Mayor Edwin Lee. "EVs have the power to reduce dependency on oil, reduce greenhouse gas emissions, save people money, and revitalize the economy here in San Francisco and across the country. EV Week demonstrates once again why San Francisco is the Innovation Capital of the World."
EV Week is supported by sponsors: Toyota Corporation, Pacific Gas and Electric, Nissan and Nissan Infiniti, BMW's DriveNow and SunPower Corporation.
About Charge Across Town
Charge Across Town™ is a collaborative effort between city government, local businesses and the electric vehicle (EV) community to advance the adoption of EVs, reduce carbon emissions from the transportation sector, and helps create clean energy jobs in California and beyond. Charge Across Town will raise awareness of EVs and educate consumers on the benefits, costs and feasibility of owning an electric car. It will advance the EV infrastructure by educating and incentivizing commercial and residential property owners on the costs and benefits of installing EV charging stations. For more information visit www.chargeacrosstown.com.
Featured Product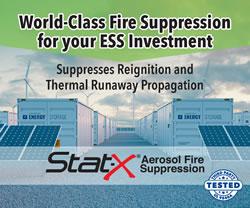 Stat-X® condensed aerosol fire suppression is a solution for energy storage systems (ESS) and battery energy storage systems (BESS) applications. Our Stat-X condensed aerosol fire extinguishing product was tested for efficacy in suppressing li-ion battery fires. It was found that the product successfully extinguished single and double cell battery fires. This testing was conducted in parallel with a large battery fire testing program on behalf of a large energy storage company.