The facility will include a state-of-the-art surface mount technology assembly line that will make both products for P4Q USA and components for their clients on a contract basis.
ALBURQUERQUE, New Mexico (September 12, 2012) - P4Q USA, Inc. the world's largest supplier of solar tracking controllers is locating its North American headquarters and production facility to Albuquerque, NM, which will support its solar, lighting and train business divisions. The facility will include a state-of-the-art surface mount technology assembly line that will make both products for P4Q USA and components for their clients on a contract basis.

P4Q USA, Inc. is majority owned by P4Q Electronics, SL of Bilbao, Spain. The company was created in 2002 to support wireless telecommunication devices, headlights for some of the leading automobile companies in the world, and various controllers for about 15% of the world's train industry. In 2007, P4Q Electronics created their first product, called Suntrack, which is a computer component used in tracking devices that follow the sun to create more energy for different solar technologies. They recently created their second product, called Light Track that controls streetlamps in order to save energy.
"P4Q will require 15 people its first year. Besides its existing work force in electronics we have chosen Albuquerque, NM for its positive business environment, access to transportation, bi-lingual population and competitive costs for rent and utilities," said Michael Orshan Executive Director of P4Q USA. "We expect to thrive and grow in Albuquerque as the market continues to expand for solar, energy conservation, and trains."
"I am extremely pleased that P4Q has selected Albuquerque as the location for its U.S. headquarters and production; this is a solid addition to the area's solar industry cluster," said Albuquerque Mayor Richard J. Berry. "I believe in the need for increased use of advanced, manufacturing technologies in order to remain competitive in the world economy, and Albuquerque has exceptional capabilities to assist P4Q in that mission. This company's investment in our community is exactly the type of project we are targeting with our newly expanded International Trade Alliance program."
"Bernalillo County is excited to welcome P4Q and will do everything possible to help facilitate their growth," said Deputy County Manager Vince Murphy. "This is one step into a big future for P4Q and we celebrate their success."
"We welcome P4Q to New Mexico and are proud the company chose to locate its North American headquarters and production facility in Albuquerque," said Jon Barela, New Mexico Economic Development Secretary. "Through regulatory and tax reforms and increasing workforce training funds, New Mexico is becoming a prime location for high-tech manufacturing and corporate headquarters."
"Albuquerque Economic Development, Inc. thanks P4Q for bringing quality jobs and investment to the Albuquerque metro area. AED staff assisted P4Q over the last year to site their North American expansion, which will utilize New Mexico Job Training Incentive Program funding to train new employees," said AED Chairman Jennifer Thomas.
The company will announce its grand opening event in October, which will be open to the public.
ABOUT P4Q
P4Q's Suntrack product line is the number one supplier of solar tracking controllers in the world. 800MW of solar energy are created using Suntrack products. These include concentrated PV, PV and CSP projects. With a full surface mount technology line P4Q also provides products, under a contract basis for the train and automobile industries. For more information www.suntrackpro.com.
Featured Product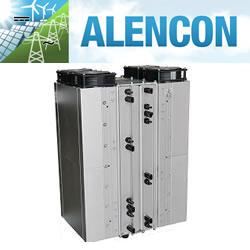 Alencon Systems is the premier manufacturer of high power, high voltage DC:DC optimizers for alternative energy applications including solar, battery energy storage, Microgrids, Fuel Cells and Electric Vehicle charging. Alencon's DC:DC converter offerings include the SPOT, BOSS and CUBE series DC:DC converters. The SPOT is a modular, uni-directional DC:DC solution ideal for solar applications. The BOSS is a modular, bi-directional unit for use with battery energy storage. The CUBE is a monolithic DC:DC converter which is available in both uni-directional and bi-directional modalities. Pictured above, is the Alencon SPOT.