PV Insider confirmed the participation of San Francisco Water, Power, Sewer (SFPUC),Tucson Energy Power, Colorado Springs Utilities, SMUD and the Imperial Irrigation District at the 3rd Utility Scale PV Plant Optimization Summit USA (17-18 October, San Jose).
London, UK September 28, 2012

At the summit experts from each utility will share real experiences from PV projects that have come online to identify how plant operators and power purchasers can work to improve power supply reliability and maximize output for years to come. The lack of investment in transmission, new capacity siting challenges and PV's inability to respond quickly to changes in demand, to meet peak loads, are crucial roadblocks that both developers and power purchasers will address at the conference.
Together the industry will share the latest advances in power flow study models, interconnection designs, smart grid planning and plant operational techniques that will lead to more reliable distribution and stability for large-scale PV projects coming online in the United States.
The summit is now only four weeks away, bringing together leading experts from the global PV industry who will tackle the unique roadblocks faced when optimizing plant performance and driving down LCOE. One of the key talking points of the conference are the lessons learned when operating utility scale plants with participation from SunPower, Black & Veatch, First Solar and Sandia National Laboratories, who will provide operational data from plants in the US.
The event is set to take place on 17-18 October in San Jose, CA, with over 250 delegates in attendance. For more details about the event go to the website:
http://www.pv-insider.com/optimizationusa
Featured Product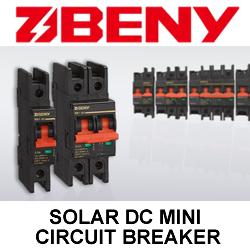 The BB1-63 modular miniature circuit-breakers can be used in solar DC circuits up to 1200 VDC (4-poles execution). Application in solar DC circuits, battery energy storage systems and UPS. Arc flash barrier design keeps solar equipment more safe and reliable. For DC circuit over-current protection.