Launched by the Colorado Cleantech Industry Association, experienced startup executives are taking part in an intensive curriculum to gain industry knowledge to develop their own cleantech ventures
DENVER – (Oct. 4, 2012) – Cleantech Fellows Institute, a Colorado-based executive training program aimed at creating near-term startup companies in cleantech, kicked off recently with five executives selected from across the nation.

The Cleantech Fellows Institute is the first of its kind with a national focus and aims to help experienced entrepreneurs and executives accelerate their transition into the cleantech sector, stimulating new venture formation, job creation and growth of the cleantech industry. With the selection of five seasoned entrepreneurs in its inaugural class, the Cleantech Fellows Institute will provide more than 130 hours of training with 120 speakers and tours to 30 laboratories and cleantech companies.
"Most venture capitalists will tell you they don't just invest in the company or the technology, they invest in the people running it," said Wayne Greenberg, director of the Cleantech Fellows Institute. "These entrepreneurs can use this experience to build an invaluable national network of cleantech stakeholders and have the opportunity to launch cleantech startup companies in one of the industry's most innovative and supportive communities."
The Institute allows the Fellows to spend their time understanding the broad energy ecosystem while closely examining the regulatory, capital and structural challenges facing the cleantech industry. The serial entrepreneurs in the program will examine specific cleantech markets including: advanced transportation technologies, energy storage, energy efficiency and building technologies, clean energy generation as well as the state of venture deal terms in cleantech and the outlook for exits.
A key feature of the program is the catalog of near-commercial-ready projects the Fellows team has collected from 12 state, federal and private laboratories across the state of Colorado. Fellows have more than 50 technologies to review and ultimately select one for their capstone project. Each executive will select a technology that sparks their interest and plan a capstone project to present in January, in advance of graduation on Jan. 10, 2013. The capstone project includes a market and technology assessment as well as the building of an initial business plan for a potential new cleantech company.
The selected executives are:
Tony Formby
Fort Worth, Texas
Tony Formby has more than 25 years experience in startup companies, starting as the co-founded Postech Corp., where he helped develop the Squirrel Touch-Screen POS System – a blueprint for many commercial and industrial touch screen and process control systems today.
As Founder and CEO of Merrimac Hospitality Systems, Formby designed and manufactured the Fusion computer workstation that is used in hotels around the world. He also led the development of the first open architecture LCD display, touch screen workstation to be used commercially.
Since 2002, he has invested in numerous companies, such as NGRAIN Corp. (Vancouver), Ravenbrick, Inc. (Denver), and SunCentral Inc. (Vancouver). He was an investor and Managing Partner of craft brewery Rahr & Sons Brewing LP in Fort Worth.
Tom McKinnon
Boulder, CO
Tom McKinnon has more than 10 years experience with early-stage cleantech startups. In addition to founding and co-founding five companies, he has taught and conducted research at the University of Colorado, and is Professor Emeritus at Colorado School of Mines.
Most of McKinnon's startup companies have been explicitly directed at addressing climate change. Novare biofuels developed carbon neutral technology to convert cellulosic biomass into drop-in biofuels such as gasoline, diesel, or jet fuel. As co-founder of Fullerene Sciences, he developed and patented a process to make carbon nanomaterials for lithium ion batteries. Finally, Boulder ElectroRide developed a high-performance electric motorcycle.
Henry Mouton
Fort Collins, CO
Henry Mouton is an environmentally focused senior executive with more than 20 years experience in developing, planning, branding and launching six hospitality ventures. As COO and director of sustainability for the Rio Grande Mexican Restaurant chain, Mouton guided the company in doubling its size in five years to its current six locations in Colorado. He also helped launch the new upscale, Oaxacan inspired restaurant in Fort Collins, El Monte Grill and Lounge.
John Tuttle
Malta, New York
John R. Tuttle, Ph.D., has more than 25 years experience in the semiconductor & photovoltaic industries. He was the co-founder of DayStar technologies, Inc. (NASDAQ: DSTI) and formerly its Chief Executive Officer and Chairman. His primary expertise lies in understanding the relationship between technology, markets and long-term competitiveness. Prior to DayStar, he was a senior scientist at NREL, where he focused on thin film CIGS-based solar cells. His research guided the fabrication of PV devices with world-record efficiencies.
Duer Reeves
Boulder, CO
Duer Reeves is a seasoned enterprise technology executive with 24 years experience in business operations and finance. He previously was a senior director at Sun Microsystems.
Reeves is currently a member of the founding team and serves as Managing Director of GreenLite Labs, a Boulder-based, mentorship-driven seed-stage investment program for cleanweb, smart grid, and smart infrastructure startups. GreenLite Labs will fund 8-10 companies per year and match them with successful cleantech entrepreneurs and investors.
The Cleantech Fellows Institute was created by the Colorado Cleantech Industry Association (CCIA) and is supported by the Department of Energy's (DOE) National Renewable Energy Laboratory (NREL) and Advanced Energy Economy (AEE), a national business organization of which CCIA is a founding chapter. The Institute builds on a regional program developed by the New England Clean Energy Council, another AEE member, and takes it national in scope.
Information on how to get involved in the program is located at cleantechfellows.com.
About Cleantech Fellows Institute
The Cleantech Fellows Institute is an exclusive program designed to facilitate the creation of venture-backed clean technology companies. The Institute will educate a highly select set of proven executives from across the country, and from a wide variety of industry sectors, that are interested in making the transition to cleantech. For more information, visit http://www.cleantechfellows.com
About Colorado Cleantech Industry Association
The Colorado Cleantech Industry Association (CCIA) represents the interests of the state's cleantech industry. Its mission is to further establish Colorado as a world leader in clean technology by providing representation and advocacy, a unified voice, relevant programming and capacity development. For more information, visit http://www.coloradocleantech.com.
Featured Product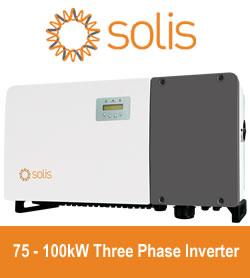 Solis75kW - 100kW series high-power string inverters are widely used in industrial and commercial rooftops. Solis's new three-phase string inverter is the first choice for industrial and commercial photovoltaics. 75-100kW three phase series string inverter have Maximum 28 strings input, support "Y" type connection in DC side. Maximum string input current 13A, support bifacial modules access.Supports anti-PID function to improve system efficiency.