The top ten inverter manufacturers are likely to suffer because of falling inverter prices.
Wellingborough UK, 22 October 2012 - IMS Research (recently acquired by IHS Inc. (NYSE: IHS)) forecasts 2013 to be another challenging year for photovoltaic (PV) inverter manufacturers, with flat revenue growth globally and a major shift away from traditional markets leading to a reshaping of the supplier base according to the company's latest report from. The top ten inverter manufacturers are likely to suffer because of falling inverter prices and because new markets such as Japan, China, India and the U.S. will prove difficult to penetrate and may not compensate for decreases in their core markets, Germany and Italy. Recent announcements of profit warnings, and Chapter 11 filings by leading suppliers SMA and Satcon highlight the challenging conditions being experienced by all PV inverter manufacturers at present and this may not improve until 2014.

According to the recently released quarterly update to World Market for PV Inverters report, IMS Research forecasts double-digit growth of PV installations with 35 GW of installations predicted in 2013. However, inverter revenues will remain flat as prices are forecast to decline in a highly competitive market as manufacturers attempt to break into new geographic markets and gain market share. A major geographic shift in demand, coupled with continued, intense price pressure will present a major challenge for the leading PV inverter suppliers in 2013.
Although the U.S. and some key Asian countries will more than make up for the shortfall left by the decreasing markets of Italy and Germany, these markets may not be easily accessible to many of the leading inverter suppliers and penetrating the markets will be challenging. Some of the key challenges that inverter manufacturers will continue to face in 2013 will be certification standards, lower cost bases and local manufacturing requirements, as well as intense competition from local suppliers. As some of the Asian countries have a much lower price point, one of the biggest hurdles for inverter manufacturers in 2013 is that they will not be able to subsidize their Asia operations by their profitable European business.
As FiT cuts have occurred in mature PV inverter markets such as Germany and Italy, manufacturers are increasingly looking to the growth markets of U.S. and Asia. "Manufacturers that can successfully penetrate these growing PV markets and will stand to reap the benefits in the future as the market develops – but this won't be easy," explained Cormac Gilligan, PV market analyst at IMS Research. "Longer term horizons and sound strategic decisions will be needed in the future years as PV inverter market becomes more fragmented due to the diverse geographical spread as more PV markets develop, including South Africa and South America."
For those manufacturers that withstand the challenges of 2013 and successfully penetrate these emerging markets, the future years are forecast to return to double digit growth as the PV market reaches greater maturity. However the key inverter markets will no longer be centered in Europe but spread over a greater number of continents. IMS Research forecasts that Europe accounted 54 percent of global shipments in 2012, however this will fall significantly to 40 percent by 2014. As a result, IMS Research predicts that the top ten manufacturers in 2014 will be quite different to those seen today, with many more Chinese and Japanese companies.
IMS Research's annual analysis of the global PV inverter industry which relies on real sales and shipment data from more than 80 suppliers was published in July 2012. For more details, please contact Cormac.Gilligan@imsresearch.com.
About IMS Research:
About ĎThe World Market for PV Inverters 2012' report
The 5th edition of IMS Research's highly regarded report on PV inverters is used and supported by the entire PV inverter industry. It is the only report available that uses actual sales and shipment data from more than 100 suppliers of PV inverters and features 50,000 data points.
The highly regarded report provides detailed market sizes, market shares and forecasts for the global solar inverter market. Granular forecasts are provided for 19 key countries as well as analysis of trends in inverter demand and a full competitive environment review with market shares for 2009-2011.
About IHS Inc. (www.ihs.com)
IHS (NYSE: IHS) is the leading source of information, insight and analytics in critical areas that shape today's business landscape. Businesses and governments in more than 165 countries around the globe rely on the comprehensive content, expert independent analysis and flexible delivery methods of IHS to make high-impact decisions and develop strategies with speed and confidence. IHS has been in business since 1959 and became a publicly traded company on the New York Stock Exchange in 2005. Headquartered in Englewood, Colorado, USA, IHS employs more than 6,000 people in more than 30 countries around the world.
About IMS Research (www.imsresearch.com)
IMS Research, recently acquired by IHS (NYSE: IHS), is a leading supplier of market research and consultancy to over 2500 clients worldwide, including most of the world's largest technology companies. Established in the UK in 1989, IMS Research now has dedicated analyst teams focused on the factory automation, automotive, communications, computer, consumer, display, financial & ID, LED & lighting, medical, power & energy, solar PV, smart grid and security markets. Currently publishing over 350 different syndicated report titles each year, these in-depth publications are used by major electronics and industrial companies to assess market trends, solve marketing problems, and improve the efficiency of their businesses.
Featured Product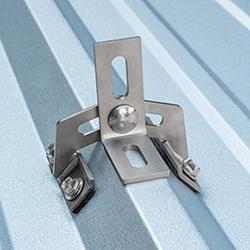 Explore new lines of income for your solar installation business with QuickBOLT's Stone Coated Steel roof mounts designed in partnership with metal roof manufacturers themselves. These SCS roof mounts work on all metal tile profiles and will help you bring in money you're missing out on. By not driving into the roofing material, QuickBOLT's Stone Coated Steel roof hooks maintain the integrity of the roof. Install with ease and confidence knowing your roof is protected against the harsh elements that these hooks are designed for.