Capacity Rationalization and Equipment De-Bookings Provide Further Delay to Next Technology Buy Cycle
Santa Clara, Calif., October 22, 2012—Production equipment order cancellations and push-outs by solar photovoltaic (PV) manufacturers during 2012 exceeded $3 billion by the end of Q3'12, according to new research in the latest NPD Solarbuzz PV Equipment Quarterly report.

This has resulted in a significant reduction in order backlogs for PV equipment suppliers, with Q3'12 representing the fourth consecutive quarter of 30% Q/Q backlog declines. When combined with maintenance-only quantities of new orders seen by PV equipment suppliers, the PV book-to-bill ratio has fallen into negative territory, the first time since the industry began to take off in the mid-2000s.
According to Ray Lian, Analyst at NPD Solarbuzz, "Negative book-to-bill ratios are extremely rare within established capital equipment sectors. Even the worst downturns in the semiconductor industry have been characterized by positive book-to-bill ratios. Negative book-to-bill metrics suggest that most legacy PV capacity expansion plans have now been cancelled. This satisfies one of the first requirements for the PV industry to rebound from its overcapacity-driven downturn phase."
Customers of PV equipment suppliers – PV cell and module makers – continue to undergo a painful capacity rationalization process, caused by chronic over-investment dating back to 2010. However, quarterly manufacturing capacity for c-Si cells and modules remains constant at 13 GW, with new capacity coming online cancelling out the existing capacity that is being shuttered and idled.
During Q3'12, utilization rates for cell and module capacity had to be reduced considerably in an attempt to restore inventories to more manageable levels. However, PV manufacturers remain highly cautious about short-term capacity and production plans, with growing uncertainty related to the outcomes of several ongoing anti-dumping investigations. Some Chinese c-Si manufacturers are considering geographic diversification of their manufacturing capacity.
PV equipment spending is forecast to decline by more than 66% during 2012, and to remain at pre-2008 levels of $5 billion during 2013. Equipment spending is not forecast to rebound until at least 2014, with tier 1 spending accounting for over 90% of addressable revenues. PV equipment spending over the next 12-18 months will be comprised of process tool upgrades, advanced high-efficiency pilot lines, and potential geographic capacity diversification to address any trade restrictions or local content requirements.
The NPD Solarbuzz PV Equipment Quarterly report enables PV equipment suppliers to navigate spending cycle challenges by identifying target customers and competitors, equipment revenues on offer (down to the key process tool level), and the precise timing of each PV manufacturer's fab expansions by quarter through 2016. The performance of leading PV equipment suppliers is analyzed and forecast, including PV-specific process tool revenues, bookings, and backlogs. The report features a comprehensive capacity and production database, incorporating proprietary NPD Solarbuzz industry knowledge covering over 390 c-Si cell and thin-film panel producers and including an extensive analysis of technology, equipment spending, and market-share trends.
For more information or to order the NPD Solarbuzz PV Equipment Quarterly, contact us at one of our seven global locations, email us at contact@solarbuzz.com, or call Charles Camaroto at 1.516.625.2452 for more information.
About NPD Solarbuzz
NPD Solarbuzz is a globally recognized market research business focused on solar energy and photovoltaic industries. Since 2001, NPD Solarbuzz has grown its client base to include many of the largest global PV manufacturers, major investment banks, equipment manufacturers, materials suppliers, hedge fund companies, and a vast range of other multi-nationals. NPD Solarbuzz offers a wide array of reports, including Marketbuzz, an annual global PV industry report, and Solarbuzz Quarterly, which details both historical and forecast data on the global PV supply chain. The company's research also provides annual downstream PV market reports by region for Europe, Asia Pacific and US markets. In addition, Solarbuzz.com is a recognized and respected online resource within the solar industry. For more information, visit www.solarbuzz.com or follow us on Twitter at @Solarbuzz.
About The NPD Group, Inc.
The NPD Group is the leading provider of reliable and comprehensive consumer and retail information for a wide range of industries. Today, more than 2,000 manufacturers, retailers, and service companies rely on NPD to help them drive critical business decisions at the global, national, and local market levels. NPD helps our clients to identify new business opportunities and guide product development, marketing, sales, merchandising, and other functions. Information is available for the following industry sectors: automotive, beauty, entertainment, fashion, food, home and office, sports, technology, toys, video games, and wireless. For more information, contact us or visit npd.com and www.npdgroupblog.com. Follow us on Twitter: @npdtech and @npdgroup.
Featured Product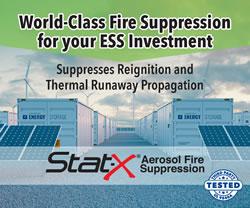 Stat-X® condensed aerosol fire suppression is a solution for energy storage systems (ESS) and battery energy storage systems (BESS) applications. Our Stat-X condensed aerosol fire extinguishing product was tested for efficacy in suppressing li-ion battery fires. It was found that the product successfully extinguished single and double cell battery fires. This testing was conducted in parallel with a large battery fire testing program on behalf of a large energy storage company.