DECK Monitoring Incorporates SolarAnywhere SystemCheck™ to Offer Dependable, Affordable Performance Baselines
DECK Monitoring announces a new product offering in their suite of PV monitoring solutions. The new product, "SolarAnywhere® SystemCheckTM," seamlessly integrates the powerful DECK software platform with site-specific satellite irradiance and predictive modeling data powered by Clean Power Research, pioneers in solar estimation technology.

SolarAnywhere SystemCheck combines satellite irradiance data with simulation models to provide the industry's most detailed predicted power calculator. This calculator accounts for make and model of system hardware (such as panels and inverters) along with panel tilt, azimuth angle, and panel tracking motion. The end result is a highly accurate performance baseline that is automatically generated within the DECK Admin Panel web page, allowing users to easily chart actual generation against modeled performance.
You can easily compare irradiance to power. You can easily compare modeled generation to actual generation. There is no better way to benchmark your system performance.
SolarAnywhere irradiance data is calculated from NOAA GOES satellite imagery using an exclusive image processing method developed by Dr. Richard Perez at SUNY Albany. Data is currently provided with hourly granularity, and resolution up to one kilometer.
DECK Monitoring was recently named the 2011 North American leader in monitored sites added for commercial and utility market segments (Greentech Media Research). DECK Monitoring develops data visualization software that allows users to see their energy data from any web-enabled device. DECK pairs this software with hardware procurement and other services in order to provide comprehensive "turn-key" energy monitoring solutions for clients. Based out of Portland, OR, DECK is a privately-held company run by a small group of energy market visionaries.
CONTACT:
Peter Denato
Marketing
503.422.6093
peter@deckmonitoring.com
Featured Product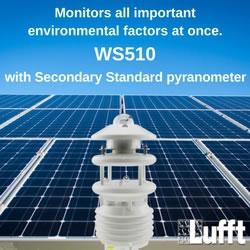 Professional weather sensors form the heart of large solar plants supporting their operation and performance. Lufft was the first manufacturer to combine several sensors in one housing, bringing the largest multiparameter weather sensor family with 19 members into being. Many of them are well-suited for solar site assessment and continuous monitoring. The most commonly used one is the WS600 delivering data on temperature, air pressure, wind, relative humidity and precipitation. Through its open protocol, it can easily be attached to radiation sensors e.g. from Kipp&Zonen. Other models have an integrated Silicon, Second Class or Secondary Standard radiation sensor.