Baker Electric Solar (BES) a full-service solar integrator is pleased to announce it has partnered with Clean Power Finance to expand its solar financing options for residential rooftop solar installations.
Baker Electric Solar (BES), a full-service solar integrator specializing in green technology design / build for residential solar and commercial solar installations, has partnered with Clean Power Finance to expand its solar financing options for residential rooftop solar installations.

According to a Solar Energy Industries Association (SEIA) survey, despite the cost of solar electric panels decreasing by 30 percent since the beginning of 2010, 48 percent of Americans cited cost as their biggest concern with choosing solar energy. With the addition of financing options through Clean Power Finance to its zero down SunPower Corp. lease offering, BES is poised to provide solar customers with an array of affordable financing alternatives.
Clean Power Finance's online marketplace and solar design and proposal software allows qualified residential solar professionals to access a variety of solar finance products to find the best fit for each customer. Examples of financing options include: a monthly lease, a monthly power purchase agreement (PPA) and a prepaid PPA , with terms ranging from 20 to 25 years.
Residential solar power has continued to grow rapidly in the last year because of lending products like power purchase agreements and leases that make the benefits of the technology's savings accessible to a broader spectrum of homeowners. With a prepaid lease through Clean Power Finance, a homeowner might recognize up to a 25 percent cost savings, and one of the 20-year monthly lease options is an alternative for homeowners with fair credit.
"Expanding on our customers' project funding options to include the finance marketplace and solar sales software provided by Clean Power Finance allows us to design, estimate, quote and help each customer get the best financing fit for their solar installation," said Baker Electric Solar CEO Ted Baker. "Leases are helping an entire new market of solar energy adopters 'go green.' With diversified financing options, it's getting easier to bring clean energy to a larger customer base."
"In our experience, making multiple financing options available to qualified solar professionals such as Baker Electric Solar in a single marketplace is a win-win situation for both the solar company and the consumer," said Robert Prigge, CCO of Clean Power Finance. "Baker Electric Solar can expand its customer base and help more people go solar by presenting homeowners with affordable, tailored finance options that meet their preferences and needs."
For more information about Baker Electric Solar and San Diego solar power call (877) 543-8765 or visit http://www.bakerelectricsolar.com.
About Baker Electric Solar (BES)
Escondido-based NB Baker Electric, Inc., dba Baker Electric Solar, designs, builds and installs photovoltaic solar power systems for new and existing homes and commercial facilities across Southern California. BES is a 2012 Inc. 500|5000 company and one of San Diego's 2012 Fastest Growing Private Companies. In addition BES was named 2011 SunPower Regional Residential Dealer of the Year. For more information, visit http://www.bakerelectricsolar.com.
About Clean Power Finance
Clean Power Finance is driving the mass-market adoption of residential solar by building an online business-to-business marketplace to connect the solar industry and the capital markets. Clean Power Finance provides solar professionals, including marketers, installers, manufacturers and distributors, with access to a variety of non-exclusive, white-label residential finance products and an easy-to-use solar sales quoting and design tool. The company's transparent pricing makes it easy for financial firms and lenders to invest in residential solar projects that provide reliable rates of return. Founded in 2007, Clean Power Finance is venture backed by Kleiner Perkins Caulfield & Byers (KPCB), Google Ventures, Claremont Creek Ventures, Clean Pacific Ventures and Sand Hill Angels. To learn more about how Clean Power Finance can accelerate the growth of solar businesses, please visit http://www.cleanpowerfinance.com.
Featured Product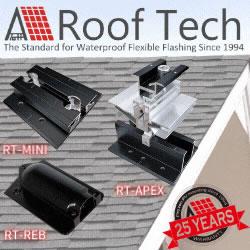 Now Roof Tech brings you the most innovative, watertight mounting systems ever developed for solar photovoltaic systems. Designed and manufactured exclusively for us by Japan's longtime leader in roofing technologies, Roof Tech products are 100% code-compliant and offer fast, simple installation and huge savings on shipping costs due to their compact, rail-less design. Learn more about our full line of versatile PV mounting solutions now available for residential installations. The next generation in rooftop solar mounting solutions."