The shift to a new, sustainable energy supply system is proceeding at full speed. The joint f-cell and Battery+Storage conference and trade fair event focused on the contributions of hydrogen, fuel cells and batteries. 3,233 industry experts conveyed a mood of optimism at the combined event.
To build a sustainable, environmentally safe energy system that provides energy wherever, whenever and in whatever form it is needed – that, in a nutshell, was the shared mission of the 3,233 trade fair visitors, including 585 f-cell and Battery+Storage conference participants, who came to Stuttgart from 8 to 10 October 2012. At the Messe Stuttgart, visitors and conference participants were briefed by 142 exhibitors and in 127 presentations by experts from Belgium, China, Denmark, Germany, England, France, Italy, Japan, Korea, Norway, Austria, Poland, Sweden, Switzerland, South Africa and the USA on the current state of the art in the fields of fuel cell, lithium-ion-battery and hydrogen-production and storage technologies and had ample opportunity to discuss scenarios for intelligent energy supply systems. The international f-cell industry forum was held at the Stuttgart Trade Fair Grounds in conjunction with the new Battery+Storage trade fair and the e-mobil BW TECHNOLOGIETAG for the first time this year. The event was organized in a cooperative effort involving Peter Sauber Agentur Messen und Kongresse GmbH, Stuttgart Region Economic Development Corporation (Wirtschaftsförderung Region Stuttgart GmbH, WRS), Landesmesse Stuttgart GmbH and e-mobil BW GmbH.

Seminars for teachers and energy consultants, a business brunch for firms interested in the industry, a festive evening event and an excursion for conference participants accompanied the joint event.
Growing interest in fuel cells and batteries
"The strong growth of our international conference and trade fair event reflects the growing public interest in hydrogen and fuel cell technologies," noted Peter Sauber, Managing Director of Peter Sauber Agentur Messen und Kongresse GmbH, which has been organizing the f-cell in collaboration with Stuttgart Region Economic Development Corporation (WRS) for the past 12 years. "As the combined themes of batteries and storage solutions clearly show, batteries and fuel cells will be equally important and indispensable in the years to come. Since many companies and institutes are concerned with both of these fields, the combination was very well received." WRS Managing Director Dr. Walter Rogg also expressed satisfaction with the premiere: "This was a very good start. We want to continue pursuing this approach and position the Stuttgart region as a prime location for sustainable mobility and future technologies with this joint event."
A networked system
The experts who gathered in Stuttgart clearly emphasized the need for a networked total energy system that incorporates a number of different energy sources, relies on a range of different energy-storage options with different energy carriers and distribution systems and provides energy reliably to stationary, mobile and portable applications alike. "We are in the midst of the process of rebuilding our energy supply system. Completing that process is the task that faces our generation," as Dr. Christopher Hebling, Director of the Energy Engineering Department at the Fraunhofer Institute for Solar Energy Systems (ISE) in Freiburg emphasized in his plenary presentation.
Renewable energy sources can cover basic energy demand
"Thanks to a significant increase in the number of wind and photovoltaic power plants, renewable energy sources now account for roughly 25 percent total network capacity," he pointed out. "That figure is expected to rise to 80 percent by mid-century." Because sunlight and wind complement each other ideally in terms of available supplies, renewable energy sources are capable of covering basic energy demand reliably, he added. Yet it is already evident today that "green" electrical power production exceeds actual demand significantly during certain phases. The unfortunate consequence is that, at the moment, both hard-coal-fired power plants and more sluggish lignite-fired power plants designed primarily to cover basic demand have to be throttled down. "This situation will become even more acute," the expert explained. "What we need are storage media that are capable of taking on 'surplus' energy from renewable sources."
Batteries as storage media
Stationary systems equipped with lithium-ion batteries as intermediate storage media are already available in the market. Systems of this kind were presented at the trade fair by ads-tec GmbH and the Karlsruhe Institute of Technology (KIT), for example. "One example of a potential application is found on southern islands, where air-conditioning systems are run on solar power during the day, while loud diesel generators take over the job of producing electricity at night and during peak demand periods. Batteries charged with PV electricity offer an environmentally friendly alternative that is already economically efficient today," says Michael Mast of KIT. The BESS 50 system with a capacity of 50 kilowatt hours presented by KIT is capable of modular expansion and is offered by AccuSol GmbH in Karlsruhe.
Hydrogen as an energy storage medium and hybrid heating systems
Batteries are ideal solutions in situations in which small quantities of electricity need to be stored temporarily and "parked" electricity must be available for use on short notice. But aside from pump and compressed-air storage units, there is only one solution that provides for storage of surplus electricity from renewable sources: hydrogen production. This energy carrier can be "horded" in high-pressure tanks or in underground caverns for long periods of time. "Power-to-Gas" is the term used by experts for the model in which hydrogen or methane derived from hydrogen is fed into the gas grid and is thus capable of storing 220 terawatt hours. For purposes of comparison, pump storage capacity in Germany is currently about 40 gigawatt hours. A new concept known as "hybrid heat production" relies on a system that makes direct use of surplus electricity to produce heat for households and industrial facilities. Such hybrid systems switch back and forth from gas to electricity depending on demand. "According to calculations, industrial facilities and households could take on the entire supply of surplus electricity in the year 2020 – provided corresponding networks are available," as Bernhard Heyder of EnBW Energie Baden-Württemberg AG noted in his presentation.
"Green" hydrogen from water
An electrolyser is needed in order to produce hydrogen from water with the aid of electricity. H-TEC Systems of Lübeck introduced a unit of this kind to the market in the spring of 2012. H-TEC makes use of a process known as PEM electrolysis, which – in contrast to the alkaline electrolysis method established since the 1950s – is capable of accommodating flexible operations even under partial loads. "We offer complete systems in a range from 1.3 to 200 kilowatts and are thus particularly attractive for system integrators," reported Åke Johnsen, Marketing Director at H-TEC.
Complete systems with electrolysers and fuel cells
One such system supplier is FutureE Fuel Cell Solutions GmbH of Nürtingen in Baden-Württemberg, a company that offers fuel cell units as emergency power sources for operators of telecommunication networks, transformer substations and industrial applications, for example. The new FutureE Jupiter Independence system combines an electrolyser, a hydrogen storage unit and a fuel cell. "In many countries, such as China, for example, regional power outages resulting from power-supply bottlenecks are daily occurrences. That is where our system technology comes into play. It is in strong demand wherever companies must ensure reliable, disruption-free power supply in order to maintain operations," noted Andreas Stadlinger, Director Sales at FutureE. During the f-cell event, FutureE Managing Directors Bettina Drehmann and Mark-Uwe Oßwald accepted second prize for their new product at the f-cell award ceremony in the "classic" category.
First fuel cell heating units enter the market
End-consumers can already enjoy the benefits of fuel cell applications and purchase fuel cell heating appliances. According to manufacturers' forecasts, customer will have installed several thousand such units – small cogeneration systems that produce both heat and electricity – by the year 2020. Potential users include all owners of single-family and duplex houses who are connected to the gas supply system. "Compared to conventional gas condensing heaters, these units reduce greenhouse gas emissions by between 21 and 40 percent," explained Andreas Ballhausen, spokesman for the Initiative Brennstoffzelle (IZB, fuel cell initiative), which presented a study conducted by the ifeu Institut in Heidelberg under commission from the IZB. He also noted another advantage for purchasers, emphasizing that "The technology is flexible", as it can be powered not only with natural gas, but – in the long run – with hydrogen or biogas as well.
Award for BlueGen
During the f-cell evening event, Andreas Ballhausen, recently appointed Managing Director, Sales and Service, at Ceramic Fuel Cells B.V. in Aachen, stood alongside Dr. Karl Föger, the company's founder and Chief Technology Officer on the stage. Together, they accepted the first prize at the f-cell award ceremony in the "classic" category on behalf of BlueGen, the first micro-cogeneration system produced and marketed in Germany. Equipped with a high-temperature solid-oxide fuel cell (SOFC), the unit is said to have an outstanding electrical efficiency rating of 60 percent and an overall efficiency rating of 85 percent. The firm's competitors, who also presented at the f-cell trade fair, reported successes as well. Hexis AG of Winterthur, Switzerland, plans to launch sales of the Galileo 1000 N heating unit in the fall of 2013. Dr. Manfred Stefener, Managing Director of Elcore GmbH, announced that his company has been awarded the CE seal for its Elcore 2400 fuel cell heating system. The CE seal confirms that the unit meets all of the requirements of the Gas Appliances Directive in terms of safety, emissions and efficiency and has been approved for sale.
Mobility: rapid development of the hydrogen refuelling station network planned
According to experts, some of the hydrogen that will most probably be produced from renewable energy sources in future will ideally be used to fill the tanks of fuel cell vehicles. At present, there are not enough refuelling stations or fuel cell cars, which are not yet commercially available. Because automobile manufacturers are hesitant to introduce these cars to the market until a sufficient supply of hydrogen is assured, the development of the refuelling station network is at the top of the agenda. Baden-Württemberg plans to expand the hydrogen infrastructure in the state by building refuelling stations and systems for the production and storage of hydrogen from renewable energy sources, noted Helmfried Meinel, Director of the Environmental Affairs Ministry in Baden-Württemberg. Of the current roughly 30 hydrogen refuelling stations in Germany, about fifteen are accessible to the public, including three in Baden-Württemberg. Two more will be added by the end of 2012. "We plan to increase the number of refuelling stations in Germany to 50 in the next years," explained Dr. Veit Steinle from the Federal Ministry of Transport, Building and Urban Development.
Trade visitors test-drive electric vehicles
A large number of electric vehicles with fuel cells or batteries were available to trade fair visitors for test drives. A highlight of the programme was a tour with Rex Newton, a fuel cell lorry produced by Proton Motor Fuel Cell GmbH of Puchheim and Smith Electric Vehicles in Hürth. Visitors took roughly 300 test drives on the three days of the trade fair. f-cell participants who took part in this year's excursion on the third day found out what it is like to ride in a fuel cell-powered bus. The fuel cell bus manufactured by the Belgian VanHool company made the 300-km trip from Antwerp for the sole purpose of chauffeuring trade fair visitors and conference participants.
Next year in Stuttgart
The next joint event comprising f-cell, Battery+Storage and the e-mobil BW TECHNOLOGIETAG will take place from 30 September to 2 October 2013. The results of a visitor survey revealed that many of the guests, exhibitors and speakers at this year's event have firm plans to attend again in 2013.
Links:
f-cell: www.f-cell.de
Battery+Storage: www.battery-storage.de
e-mobil BW TECHNOLOGIETAG: www.e-mobilbw.de/technologietag/
Featured Product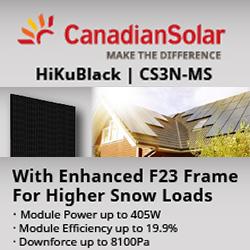 Aesthetic appearance for residential systems: With black backsheet & black frame, Power range 380 ~ 405 W, Low power loss in cell connection. Enhanced reliability: · Low temperature coefficient (Pmax): -0.34 % / °C, LID LeTID less than 2.0%, Lower hot spot temperature, Better shading tolerance.