Globally the number of charging stations will grow 10-fold, says Lux Research.
BOSTON--With government policy and investment driving automotive companies toward plug-in vehicles, the technology for delivering electricity to these vehicles will rise to a $1.2 billion market in 2020, according to a Lux Research report.

Lux Research developed a forecast using vehicle sales to project the global electric-vehicle supply equipment (EVSE) market. Overall, despite slow adoption of plug-in vehicles, the charging station market will grow in unit sales from around 120,000 in 2012 to 1.3 million units in 2020, rising from $140 million in 2012 to $1.15 billion in 2020, a CAGR of 30%.
"Success for EVSE will ultimately follow the success of electric vehicles," said Kevin See, Lux Research Senior Analyst and the lead author of the report titled, "Charging Ahead: Finding Reality in the Electric Vehicle Supply Equipment Market." "It's critical for those invested in charging stations to find the applications where there's substantial growth."
Lux Research analysts studied a web of partnerships in the EVSE market, besides building a forecast for its growth. Among their findings:
*Europe is the leader. Europe will lead the global market with 2020 annual sales of 480,000 units. China forges ahead after a slow start, growing to 277,000 annual unit sales of charging stations by 2020.
*China consumes the most energy. In 2020, plug-in vehicles in China will consume 1.9 TWh of electricity, or 23% of all energy consumed by plug-ins, the largest by any individual country, translating into $155 million in revenue for Chinese utilities.
*Web of partnerships is key. Auto OEMs such as Ford, Daimler, GM, BMW, and Nissan form the core of charging infrastructure partnerships, with complex inter-connections with emerging companies – like BMW's recent investment in Coulomb Technologies – and utilities.
The report, titled "Charging Ahead: Finding Reality in the Electric Vehicle Supply Equipment Market," is part of the Lux Research Electric Vehicle Intelligence service.
About Lux Research
Lux Research provides strategic advice and on‐going intelligence for emerging technologies. Leaders in business, finance and government rely on us to help them make informed strategic decisions. Through our unique research approach focused on primary research and our extensive global network, we deliver insight, connections and competitive advantage to our clients. Visit www.luxresearchinc.com for more information.
Featured Product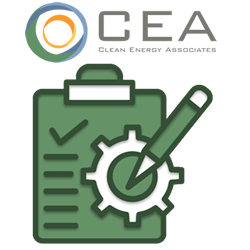 Clean Energy Associates provides a complete quality assurance solution that covers the entire product lifecycle of PV modules, storage systems, and every Balance of Sy stem (BOS) component. CEA's experienced on-the-ground and international team of quality control engineers and account managers offer an unparalleled quality assurance presence that can protect solar and storage investments and ensure future energy-producing viability for the life of the product.