10,800+ Clean Energy Jobs Announced in Q3 2012, but Political, Regulatory Uncertainty Takes Toll; Top 10 States in Q3: Calif., NY, Ore. Wash. N.M., TX, NC, Minn. Ill. Nev.
WASHINGTON (Nov. 8, 2012) – More than 10,800 jobs were announced in the

clean energy sector and related industries in the third quarter of this
year, according to the latest analysis by Environmental Entrepreneurs (E2).
The top 10 green job states in the third quarter of 2012 were (from No.1 to
No.10): California, New York, Oregon, Washington, New Mexico, Texas, North
Carolina, Minnesota, Illinois and Nevada.
While significant, the job growth was dramatically less than in the previous
two quarters of this year - despite an improving economy.
The latest "What Clean Energy Jobs? These Clean Energy Jobs!" report
suggests that what was once strong job growth in the clean energy sector is
being reined in by uncertainty over politics and policies such as the
production tax credit (PTC) for the wind industry that is about to expire.
By comparison, E2 tracked announcements involving more than 37,000 jobs in
the clean energy sector in the second quarter. In the first quarter of this
year, there were 46,000 clean energy jobs announced – more than four times
as many as in the third quarter.
"These numbers show that policy matters," said Judith Albert, executive
director of Environmental Entrepreneurs. "With clean energy job
announcements slowing down, it becomes even more important that Congress and
the administration take the right steps to ensure that we don't lose any
more momentum in the clean energy sector that's helping both our economy and
our environment."
E2 also unveiled a new online tracking tool that can be used to search for
job announcements by sector and by state that can be found at
www.e2.org/cleanjobs.
The third-quarter report is the latest since E2 began tracking clean energy
job announcements in September 2011. E2 is a nationwide network of business
leaders who advocate for good environmental policy while building economic
prosperity. It is an affiliate of the Natural Resources Defense Council.
For the complete report, as well as past reports, please see
www.e2.org/cleanjobs.
The report comes as Congress is about to return to Washington and has the
opportunity to extend the production tax credit that has created tens of
thousands of jobs in the wind energy industry. The looming Dec. 31
expiration of the PTC has already resulted in massive layoffs and project
curtailments in the wind industry.
"It's hard to expand your business and create new jobs with this much
political uncertainty affecting the wind industry," said Jacob Susman,
founder and CEO of OwnEnergy, Inc, a Brooklyn, N.Y.-based wind farm
developer.
"The election is now over, and the political posturing needs to end," Susman
said. "Congress should give businesses like mine the certainty we need to
grow, by passing the Senate Finance Committee's version of the PTC in the
upcoming tax extenders package that will let us all get back to work."
According to the E2 report:
*Power generation companies announced the most clean energy jobs in the
July-September quarter. Solar, wind and biogas companies announced 40
projects that together would create more than 6,000 jobs.
*Manufacturing companies making everything from electric vehicles to solar
panels announced 14 projects in the quarter that would create more than
1,600 jobs. However, most projects were being completed or nearing
completion.
*In the wind industry, manufacturing job announcements fell to zero in the
third quarter, compared to eight announcements in Q1 and two in Q2.
*Clean energy job announcements have no political or regional boundaries.
Forty-eight percent of the announcements were in Republican congressional
districts, 46 percent were in Democratic districts, and 6 percent spanned
more than one congressional district.
*Three states saw significant jumps in announcement for clean energy and
related jobs between the second and third quarters: North Carolina (from No.
26 to No. 7), Washington (from No. 27 to No. 4), and Texas (from No. 15 to
No. 6).
The E2 report is compiled from formal job announcements and media reports.
They include projects and programs in various stages of development mainly
in the manufacturing, energy, biofuels and public transportation industries.
Featured Product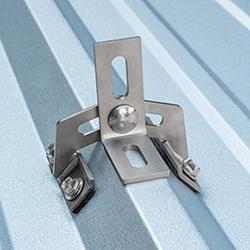 Explore new lines of income for your solar installation business with QuickBOLT's Stone Coated Steel roof mounts designed in partnership with metal roof manufacturers themselves. These SCS roof mounts work on all metal tile profiles and will help you bring in money you're missing out on. By not driving into the roofing material, QuickBOLT's Stone Coated Steel roof hooks maintain the integrity of the roof. Install with ease and confidence knowing your roof is protected against the harsh elements that these hooks are designed for.