JA Solar will commence mass production of the new product offering this month.
SHANGHAI, China, Nov. 12, 2012 -- JA Solar Holdings Co.,

Ltd. (Nasdaq:JASO), ("JA Solar" or the "Company"), one of the world's
largest manufacturers of high-performance solar power products, today
announced that it has launched its new 6-inch full-square monocrystalline
module series. The modules have been certified by TUV Rheinland, one of the
world's leading providers of technical services, as having a maximum
conversion efficiency of 16.82% and a maximum power output of 275W. JA Solar
will commence mass production of the new product offering this month.
With the adoption of JA Solar's high-efficiency 6-inch full-square
monocrystalline solar cells and proprietary module encapsulation
technologies, the new 6-inch full-square modules produce a mainstream power
output of 270W, making them the most powerful modules using P-type solar
cells in a 60-cell format on the market. On average, the modules produce an
annual accumulated output 4% higher than comparable models, allowing PV
systems to generate superior performance with no additional installation
cost or demand on space.
"The 6-inch module series is another significant step in our efforts to
produce industry-leading output at competitive cost levels," said Dr.
Peng Fang, CEO of JA Solar. "The new modules' unparalleled output,
outstanding conversion efficiency, and competitive cost make them a clear
leader in the 60-cell format and an ideal solution for the burgeoning
rooftop market."
About JA Solar Holdings Co., Ltd.
JA Solar Holdings Co., Ltd. is a leading manufacturer of high-performance
solar power products that convert sunlight into electricity for residential,
commercial, and utility-scale power generation. The Company is one of the
world's largest producers of solar cells. Its standard and high-efficiency
product offerings are among the most powerful and cost-effective in the
industry. The Company also produces solar modules that it distributes under
its own brand and produces on behalf of solar manufacturers globally. The
Company shipped 1.69GW of solar power products in 2011. JA Solar is
headquartered in Shanghai, China, and maintains production facilities in
Shanghai, as well as Hebei, Jiangsu and Anhui provinces. For more
information, please visit www.jasolar.com.
Featured Product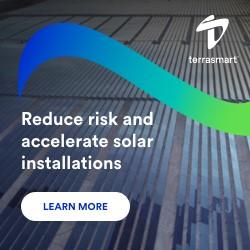 The first and only single axis tracker that allows you to turn unusable land into valuable assets. Built tough for reliable performance, TerraTrak will maximize energy output and returns conquering the most challenging sites. Employ PV where you never thought possible through durable mechanics and intelligent control technology.