REHAU is exhibiting its complete line of sustainable building solutions at Greenbuild 2012 in San Francisco this week, including the REHAU Smart Controls and RAUGEO™ geothermal ground loop heat exchange systems.
LEESBURG, Va., November 14, 2012 – REHAU announces its exhibition at the 2012 Greenbuild™ International Conference and Expo, November 14 to 16 in San Francisco. The company will display its complete line of sustainable building products and technologies, including the REHAU Smart Controls and RAUGEO™ geothermal ground loop heat exchange systems, high-performance window and door designs and a range of PVC-alternative furniture edgeband and tambour door systems.

"With more than 60 years of experience delivering cutting-edge solutions to the international construction market, REHAU is distinctly positioned to address the demands of today's green residential and commercial projects," said Mike Dietrich, business team manager, building technology at REHAU. "REHAU products and systems contribute to a tighter building envelope, offer renewable energy sourcing capabilities and can help to significantly reduce energy costs, and our ability to deliver these solutions from across multiple product categories means our customers receive system integration support that is unique in the industry."
"In addition to our commitment to innovating in alignment with the needs of the sustainable construction market, we also support our customers in optimizing the integration of our products and systems in their building projects," Dietrich said. "REHAU offers a wide range of design, training and professional development services that can elevate our customers' success in navigating ever-changing building trends, codes, standards and related certifications."
REHAU will highlight its comprehensive line of renewable energy and sustainable building systems at Greenbuild 2012 booth No. 4290N, including:
REHAU Smart Controls System
The REHAU Smart Controls system, designed for residential and mid-range commercial buildings, addresses today's energy saving goals by facilitating intelligent integration and optimization of a building's HVAC system components. REHAU Smart Controls can be operated via a Web-enabled device from any Internet-accessible location in the world, and provide a turnkey solution for remote-controlled HVAC system activities as simple as turning up the thermostat on the way home from work, or as complex as reconfiguring multi-zone setpoints to accommodate changing seasonal conditions.
The REHAU Smart Controls system streamlines the typical mechanical room with a control panel that integrates all the HVAC hardware with a dedicated on-site computer. The mechanical contractor configures the system to the building owner's unique lifestyle, comfort and energy-efficiency requirements, and continues to support the owner in analyzing and fine-tuning system performance through an ongoing service relationship.
RAUGEO™ Geothermal Ground Loop Systems
RAUGEO™ PEXa pipe is manufactured using the high-pressure peroxide method of crosslinking polyethylene, and features a coextruded grey PE UV shield that protects the pipe against ultraviolet light for extended periods. The U-bend tips are then encased in a glass-reinforced resin, providing enhanced protection during handling and borehole insertion. All RAUGEO PEXa pipe meets or exceeds the requirements of ASTM F876, F877, CSA B137.5 and PPI TR-3, and is produced in a REHAU manufacturing facility with an ISO 9001 certified quality management system. RAUGEO pipe and compression-sleeve fittings are recognized by the International Ground Source Heat Pump Association's (IGSHPA) "Design and Installation Standards 2008 Edition" guide as an accepted piping system for ground loop heat exchangers.
Single U-Bend: RAUGEO™ single U-bends are recognized by the IGSHPA "Design and Installation Standards" guide as an accepted piping system for vertical ground loop heat exchangers. They are specially designed for use in residential geothermal systems, where thermal energy requirements do not necessitate the use of a double U-bend. RAUGEO single U-bend pipe is available in 200-, 250- and 300-ft. (61-, 76- and 91-m) coil lengths.
Double U-Bend: The RAUGEO double U-bend increases borehole efficiency and lowers installation costs by reducing the required total borehole length. The unique double U-bend design increases borehole energy extraction by up to 20 percent, maximizing the energy output of each well. The RAUGEO U-bend is crafted from a single piece of pipe, eliminating the need for joints in the borehole, and increasing borehole pipe integrity. The elimination of joints translates to fewer potential leaks, reducing the risk of costly installer call-backs.
RAUGEO Helix Vertical Loop: Taking advantage of the flexibility of PEXa pipe, REHAU has designed an innovative helical vertical ground loop, which is inserted into a 15-ft. (5 m) deep hole created by an earth auger. RAUGEO Helix opens new possibilities for jobsites where space for horizontal trenching is restricted and drilling of boreholes is not possible for geological or financial reasons.
Radiant Heating Systems
Providing one of today's most comfortable and efficient types of heat, the REHAU radiant heating system circulates heated water through RAUPEX® crosslinked polyethylene (PEXa) pipe installed in floors, walls or ceilings. The system's consistent operating temperature range is also ideally compatible with alternative energy sources such as geothermal heat exchange.
Snow and Ice Melting Systems
The innovative REHAU hydronic snow and ice melting (SIM) system is designed to quickly and efficiently remove snow and ice from vehicle or pedestrian pathways. SIM systems minimize snow removal and accompanying costs, as well as the need to apply salt or other melting agents that can be corrosive to many surfaces and detrimental to the environment. Installed underneath or within an outdoor ground surface, the system includes RAUPEX pipe, the EVERLOC® compression-sleeve fitting system and PRO-BALANCE® manifolds.
INSULPEX® Energy Transfer Pipe
Engineered for the efficient transfer of hot or chilled water, INSULPEX consists of pre-insulated RAUPEX O2 barrier pipe for a flexible, lighter alternative to rigid piping systems. Available in one- and two-pipe configurations and a range of ASTM-compliant diameters, INSULPEX pipe is produced with a bonded layer of CFC-free polyurethane foam insulation that minimizes heat loss and water permeability, eliminating the need for insulating on-the-job. The black outer casing of seamless, co-extruded polyethylene offers increased UV resistance.
High-Performance Windows and Doors
REHAU's comprehensive line of high-performance uPVC windows and doors includes solutions to address the tight building envelope goals of today's sustainable construction projects. Featuring uniquely engineered compression seal technology, high-performance windows and doors from REHAU provide notable energy efficiency, structural and acoustical performance and security. A compression seal generally facilitates better long-term air infiltration and water penetration resistance than that of sliding windows and doors by reducing friction and wear on weatherstripping. The result is lasting performance and the potential for achieving higher performance ratings from organizations such as AAMA, CSA and Energy Star. REHAU high-performance windows and doors are available with compression seal technology in several configurations, including tilt-turn, tilt-slide and bi-fold designs.
GENEO® Window Profile System
The uniquely engineered GENEO from REHAU is the first fully reinforced polymer window profile system available without the use of steel components. GENEO profiles are composed of RAU-FIPRO™, a proprietary fiber composite material known for its exceptional strength and load capacities and equally as weldable as traditional vinyl. The GENEO window profile also features a patented integrated reinforcement system (IVS), with screw channels and additional lateral stiffening that ensure the highest degree of strength at all critical points of the system. Its slim-lined profiles promote generous glass surface exposure, while also providing exceptional thermal insulation performance up to R-7. The absence of steel components eliminates heat bridges typically caused by integrated metal parts, substantially improving thermal insulation, and making it possible to achieve a value of Uf ≅ 0.18 Btu/hr•ft2•F (1.0 W/m2K) prior to employing insulating measures. With an integrated 3 1/4-in. (86 mm) frame depth, multiple chambers and triple-pane insulated glazing, GENEO can aid in achieving building energy targets as stringent as those required by the German Passivhaus standard. Up to 40 percent lighter than conventional steel-reinforced profiles, GENEO profiles can streamline the installation process while allowing for a wider spectrum of fabrication possibilities.
Tambour Door and Edgeband Solutions
REHAU offers virtually unlimited possibilities in edging solutions – from unique colors, patterns and effects, to the latest in environmentally friendly materials. Edgebanding can add a striking and unique effect to numerous surfaces in kitchen, bathroom and living spaces, as well as in offices and other commercial and institutional applications. The comprehensive line of REHAU edgebanding includes a wide selection within its off-the-shelf Express Collection stock program, providing smaller, just-in-time quantities for jobs requiring only a limited amount of material.
REHAU tambour door systems suit a wide variety of market applications, with customization options to match size, design and finish preferences, fit a variety of horizontal and vertical openings, and address sustainable construction material requirements. These integrated, engineered systems require minimal space and provide full access to the cabinet contents—unlike sliding doors or hinged doors that open out into the work area. Their high-quality polymer formulation offers smoother, quieter operation than standard metal doors. Unlike wooden doors, REHAU's durable polymer systems do not swell or stick with humidity.
For more information, visit Greenbuild 2012 booth No. 4290N or contact: REHAU, 1501 Edwards Ferry Rd., N.E., Leesburg, Va., 20176. Phone: 1.800.247.9445. Fax: 1.800.627.3428. E-mail: rehau.mailbox@rehau.com. Web site: www.na.rehau.com/construction.
REHAU delivers "Unlimited Polymer Solutions," and is the premium worldwide brand for polymer-based innovations and systems in construction, automotive and industry. The company generates continuous growth through its expertise and innovative capabilities in materials development, systems design and surface technology. Approximately 17,000 employees at more than 170 locations around the world ensure success of the independent, privately held company.
-# # #-
Featured Product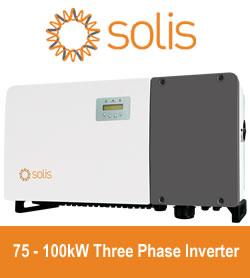 Solis75kW - 100kW series high-power string inverters are widely used in industrial and commercial rooftops. Solis's new three-phase string inverter is the first choice for industrial and commercial photovoltaics. 75-100kW three phase series string inverter have Maximum 28 strings input, support "Y" type connection in DC side. Maximum string input current 13A, support bifacial modules access.Supports anti-PID function to improve system efficiency.