Trina Solar's Changzhou PV Testing Center is now eligible to participate in the Client Test Data Program after undergoing a rigorous inspection and audit by Underwriters Laboratories
CHANGZHOU, China, Nov. 15, 2012 /PRNewswire/ -- Trina Solar Limited (NYSE: TSL) ("Trina Solar" or the "Company"), a leading integrated manufacturer of solar photovoltaic (PV) products, today announced that it has obtained the Client Test Data Program ("CTDP") certification from UL (Underwriters Laboratories). The Company is the first solar PV company to be awarded this certification, reflecting Trina Solar's continued commitment to its PV testing capabilities and its emphasis on product quality and reliability.

Trina Solar's Changzhou PV Testing Center is now eligible to participate in the Client Test Data Program after undergoing a rigorous inspection and audit by UL. As the first CTDP-certified PV company, Trina Solar goes one step beyond the Witness Test Data Program ("WTDP"). Trina Solar is now able to independently conduct testing programs and to issue UL recognized test data without requiring the on-site presence of UL dispatched engineers.
In conjunction with the certification, UL and Trina Solar have signed a framework agreement to strengthen collaboration.
"Trina Solar's collaboration with UL will further the quality and reliability of our products," commented Mr. Zhiguo Zhu, SVP and President of Trina Solar's Module Business Unit. "Being the first PV company to receive the CTDP certification is an important milestone in the development of Trina Solar. It affirms that our testing staff, standards and capabilities are of the highest caliber in the PV industry."
Mr. Zhu added, "The certification and collaboration also highlight Trina Solar's commitment to research and development and product excellence, which are key to solidifying our Company's brand in the U.S. and other global markets. In order to overcome the challenges we face in the global PV industry today, Trina Solar is working tirelessly to improve the overall value of its PV products and the affordability of solar-generated electricity."
"We are pleased to have awarded the CTDP certification to Trina Solar. Dedicated efforts from both sides allowed the review and certification to be accomplished in a relatively short period. During the entire process, we were very impressed by the professional and technical qualities that Trina Solar's staff demonstrated," commented Mr. Jun Shi, Deputy General Manager of UL China. "By signing this collaboration with Trina Solar, we look forward to continuing to work together in advancing safety and quality standards in the PV industry."
Encompassing a total area of ??over 7000 square meters, Trina Solar's Testing Center supports product certification, material reliability testing, highly accelerated aging test, and a comprehensive range of test material evaluation and research. Testing capabilities cover PV product testing standards including IEC61215, IEC61730 and UL1703. These tests simulate stresses in the natural environment and examine the ability of PV products to withstand and maintain performance in the extreme weather conditions, which they are subject to.
About Trina Solar Limited
Trina Solar Limited (NYSE: TSL) is a leading manufacturer of high quality modules and has a long history as a solar PV pioneer since it was founded in 1997 as a system installation company. Trina Solar is one of the few PV manufacturers to have developed a vertically integrated business model, from the production of monocrystalline and multicrystalline silicon ingots, wafers and cells to the assembly of high quality modules. Trina Solar's products provide reliable and environmentally-friendly electric power for a growing variety of end-user applications worldwide. For further information, please visit Trina Solar's website at www.trinasolar.com.
About UL
UL is a premier global safety science company with more than 100 years of proven history. Employing nearly 9,000 professionals in 46 countries, UL is evolving the future of safety with five distinct business units – Product Safety, Environment, Life & Health, Verification and Knowledge Services – to meet the expanding needs of customers and the global public. For more information on UL's family of companies and network of 95 laboratories, testing and certification facilities, go to UL.com.
Safe Harbor Statement
This announcement contains forward-looking statements within the meaning of the safe harbor provisions of the Private Securities Litigation Reform Act of 1995. All statements other than statements of historical fact in this announcement are forward-looking statements, including but not limited to, the Company's ability to raise additional capital to finance the Company's activities; the effectiveness, profitability and marketability of its products; the future trading of the securities of the Company; the Company's ability to operate as a public company; the period of time for which the Company's current liquidity will enable the Company to fund its operations; general economic and business conditions; demand in various markets for solar products; the volatility of the Company's operating results and financial condition; the Company's ability to attract or retain qualified senior management personnel and research and development staff; and other risks detailed in the Company's filings with the Securities and Exchange Commission. These forward-looking statements involve known and unknown risks and uncertainties and are based on current expectations, assumptions, estimates and projections about the Company and the industry in which the Company operates. The Company undertakes no obligation to update forward-looking statements to reflect subsequent occurring events or circumstances, or changes in its expectations, except as may be required by law. Although the Company believes that the expectations expressed in these forward looking statements are reasonable, it cannot assure you that such expectations will turn out to be correct, and the Company cautions investors that actual results may differ materially from the anticipated results.
Featured Product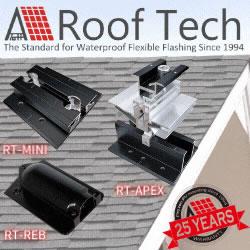 Now Roof Tech brings you the most innovative, watertight mounting systems ever developed for solar photovoltaic systems. Designed and manufactured exclusively for us by Japan's longtime leader in roofing technologies, Roof Tech products are 100% code-compliant and offer fast, simple installation and huge savings on shipping costs due to their compact, rail-less design. Learn more about our full line of versatile PV mounting solutions now available for residential installations. The next generation in rooftop solar mounting solutions."