November 16, 2012–The American Council On Renewable Energy (ACORE) responded today to the U.S. Environmental Protection Agency's denial of requests for a partial waiver of the Renewable Fuels Standard, a mandate on the volume of biofuels that must enter the U.S. fuels market.

"The Environmental Protection Agency's decision to reject a partial waiver of the Renewable Fuel Standard (RFS) is a policy decision that benefits American consumers, American jobs, and our national security," said ACORE President, Vice Admiral (Ret.) Dennis McGinn. "The biofuels industry produced 15 billion gallons of biofuels in 2011, decreasing our dependence on foreign oil, creating quality jobs, and helping to insulate our economy from the consequences of increased oil prices."
The EPA understands the importance of a thriving, homegrown American industry that delivers "fuel and food" by providing both biofuels and high protein feed for animals. Biofuels continue to help families balance their budget, saving Americans $1.09 at the pump in 2011. Equally important, while fuel costs for the Department of Defense increased 381% from 2005-2011, biofuels have begun to diversify and lower the costs of energy for our military, helping to address economic and national security challenges.
Working with a broad coalition including ACORE members POET, Novozymes North America and ICM, Inc., and organizations such as Growth Energy and Fuels America, ACORE has been focused on moving the biofuels industry forward. Our strong support for American biofuels is a key part of our Transportation Initiative, which includes forums, conference tracks, round table meetings and webinars. As a rapidly growing part of a much more balanced and diversified energy portfolio, biofuels will continue to be a critically important element in building a more secure and prosperous America with clean, renewable energy.
About ACORE:
ACORE, a 501(c)(3) non-profit membership organization, is dedicated to building a secure and prosperous America with clean, renewable energy. ACORE seeks to advance renewable energy through finance, policy, technology, and market development and is concentrating its member focus in 2012 on National Defense & Security, Power Generation & Infrastructure, and Transportation. Additional information is available at www.acore.org.
Featured Product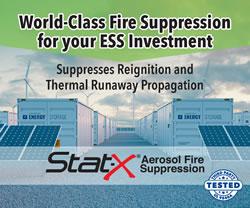 Stat-X® condensed aerosol fire suppression is a solution for energy storage systems (ESS) and battery energy storage systems (BESS) applications. Our Stat-X condensed aerosol fire extinguishing product was tested for efficacy in suppressing li-ion battery fires. It was found that the product successfully extinguished single and double cell battery fires. This testing was conducted in parallel with a large battery fire testing program on behalf of a large energy storage company.