Councilmember Diana Reyna and others celebrate the arrival of the Community Environmental Center EcoHouse, a free, mobile, 21st Century environmental classroom, in Williamsburg, Brooklyn's Southside
Brooklyn, NY – November 16, 2012 – Brooklyn's community-based organization El Puente and the Queens-based Community Environmental Center (CEC) co-hosted the arrival of the CEC EcoHouse at MS 50 John D. Wells in the Southside (Los Sures) neighborhood of Williamsburg, Brooklyn on Friday morning, November 16.

The CEC EcoHouse will be located at MS 50, 183 S. 3rd St., Brooklyn, until December 17.
On hand to salute this mobile, free, interactive 21st Century Environmental Classroom were Diana Reyna, Councilmember for the 34th District; Evelyn Cruz, representing Congresswoman Nydia Velazquez; Luis Garden Acosta, El Puente's founder and president; Richard Cherry, CEC's founder and president; Denise Jamison, M.S. 50's principal; and Mark Wyman of NYSERDA (the New York State Energy Research and Development Authority), which is helping to support the CEC EcoHouse and is also working with El Puente through the Green Jobs-Green NY programs.
Bilingual students from MS 50 were also in attendance, and Councilmember Reyna, speaking alternately in English and Spanish, urged the group to learn to conserve water, conserve electricity, conserve food and protect the environment that they will one day enter as well-educated adults.
MS 50, according to Councilmember Reyna and Principal Jamison, was only recently in danger of being closed. But the activist and loyal members of Williamsburg's Southside community successfully worked to keep it open.
The CEC EcoHouse will serve other schools in the Southside community and will also be open to the public, free of charge, Monday to Friday, 3 pm, to 5 pm, and on November 29, December 6 and December 13 from 3 pm to 8 pm. It will be closed on Saturdays and Sundays, and on November 22, 23, and 24.
Founded in 1982, El Puente is a community human rights institution that promotes leadership for peace and justice through the engagement of members in the arts, education, scientific research, wellness, and environmental action. The El Puente Green Light District is a ten-year initiative, launched in September 2011, to sustain, grow, green, and celebrate Williamsburg's Southside community. www.elpuente.us
Community Environmental Center was founded by Richard Cherry in 1994 and is a leader in the burgeoning energy-efficiency field. Located in Queens, but serving the entire New York Metropolitan Area, CEC has been a major provider of construction and technical services for green buildings, and an activist proponent of green living and working conditions, especially for the neediest among us. www.CECEnter.org
For more information about the EcoHouse, please visit www.CECenter.org/ecohouse
Featured Product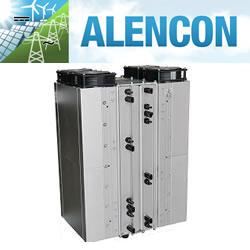 Alencon Systems is the premier manufacturer of high power, high voltage DC:DC optimizers for alternative energy applications including solar, battery energy storage, Microgrids, Fuel Cells and Electric Vehicle charging. Alencon's DC:DC converter offerings include the SPOT, BOSS and CUBE series DC:DC converters. The SPOT is a modular, uni-directional DC:DC solution ideal for solar applications. The BOSS is a modular, bi-directional unit for use with battery energy storage. The CUBE is a monolithic DC:DC converter which is available in both uni-directional and bi-directional modalities. Pictured above, is the Alencon SPOT.