Hurricane Sandy's recent demonstration of our reliance on steady and reliable power production to run almost every aspect of our lives has brought into sharp focus our urgent need to find back-up solutions.
Warrendale, PA, USA and New York, NY, USA

December 14, 2012
Hurricane Sandy's recent demonstration of our reliance on steady and reliable power production to run almost every aspect of our lives has brought into sharp focus our urgent need to find back-up solutions.
Step forward the humble battery which, in new and fascinating guises, is beginning to find its place as the backroom back-up that will keep our power flowing.
The current edition of Energy Quarterly, published as a special section of the November 2012 MRS Bulletin, takes a long hard look at the battery, detailing both its potentials and its problems, in particular for energy storage in the electrical grid.
With more than 99 per cent of energy storage on the US national grid requiring huge sites where water can be pumped into elevated reservoirs and then flowed through electricity-generating turbines, batteries – portable, modular and easy to install – are increasingly attractive for grid storage.
Batteries are ideal for injecting short bursts of power into the grid that smooth variations in alternating current frequency. Batteries are good for such applications because they can quickly release energy and cycle hundreds of times daily with low energy loss.
Battery storage can quickly inject the precise amount of power the grid needs, absorb excess energy on the grid, provide reserves without a minimum generation requirement, and be sited anywhere. They have no emissions and use little water.
The Electric Power Research Institute (EPRI) is trying to develop industry standards for grid battery storage, which should make it easier for utilities to install battery systems in the future. The race is now on to develop new and innovative battery chemistries:
*Boston-based Pellion is working on magnesium-ion batteries
*General Electric has opened a factory to make a new battery based on two-decades-old nickel-sodium-chloride chemistry
*Pittsburgh-based Aquion Energy is close to starting large-scale manufacture of sodium-ion batteries
*Axion Power from Delaware is combining lead-acid battery chemistry with electrochemical capacitors to create hybrid devices that quickly absorb and release charge
*Even flow batteries, a decades-old technology, are seeing a comeback.
As to the drawbacks of batteries, cost and lack of experience are the biggest hurdles to widespread use of battery storage. However, technologies are improving as newer chemistries become available, bringing down costs. And battery technology is expected to follow the path of wind and solar energy, with costs going down and confidence in usage increasing with experience.
It all adds up to a bright future for the battery and for power use in the American home.
Energy Quarterly (EQ) is a special section published in the Materials Research Society's MRS Bulletin. EQ is dedicated to the challenges facing materials scientists in the quest for sustainable solutions to the world's energy problems and is aimed at both experienced researchers and the general reader.
The current edition also contains an interview with Ellen Williams, the new Chief Scientist for BP, as well as articles on the supercapacitor.
EQ is available free to all online at the MRS Bulletin website. Read the full article on battery power at: http://www.mrs.org/energy-quarterly
About the Materials Research Society:
The Materials Research Society (MRS) is an international organization of almost 16,000 materials researchers from academia, industry and government, and a recognized leader in promoting the advancement of interdisciplinary materials research to improve the quality of life. MRS members are engaged and enthusiastic professionals hailing from physics, chemistry, biology, mathematics and engineering—the full spectrum of materials research.
Headquartered in Warrendale, Pennsylvania (USA), MRS membership now spans over 80 countries, with more than 40% of members residing outside the United States. In addition to its communications and publications portfolio, MRS organizes high-quality scientific meetings, attracting over 13,000 attendees annually and facilitating interactions among a wide range of experts from the cutting edge of the global materials community. MRS is also a recognized leader in education outreach and advocacy for scientific research.
For further information, go to: http://www.mrs.org
About Cambridge Journals:
Cambridge University Press publishes more than 300 peer-reviewed academic journals across a wide spread of subject areas, in print and online. Many of these journals are the leading academic publications in their fields and together they form one of the most valuable and comprehensive bodies of research available today.
For more information go to: http://journals.cambridge.org
About Cambridge University Press:
Cambridge University Press is the publishing business of the University of Cambridge. Dedicated to excellence, its purpose is to further the University's objective of advancing knowledge, education, learning, and research.
Its extensive peer-reviewed publishing lists comprise 45,000 titles covering academic research, professional development, over 400 research journals, school-level education, English language teaching and bible publishing.
Playing a leading role in today's international market place, Cambridge University Press has more than 50 offices around the globe, and it distributes its products to nearly every country in the world.
For more information go to: http://www.cambridge.org
Featured Product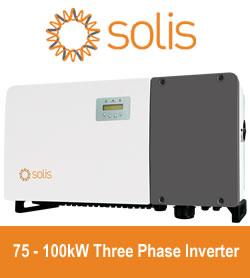 Solis75kW - 100kW series high-power string inverters are widely used in industrial and commercial rooftops. Solis's new three-phase string inverter is the first choice for industrial and commercial photovoltaics. 75-100kW three phase series string inverter have Maximum 28 strings input, support "Y" type connection in DC side. Maximum string input current 13A, support bifacial modules access.Supports anti-PID function to improve system efficiency.