State Grant Awards Help Small Businesses Attend World's Largest Technology, Manufacturing and Machine Tool Industry Trade Events in 2013
Princeton, N.J. – December 18, 2012 - Hannover Fairs USA, Inc. (HFUSA), a provider of access and tools to accelerate sales and market penetration through Deutsche Messe's portfolio of global events, announced today that it continues to work closely with individual U.S. states as they disburse funds awarded through the State Trade and Export Promotion program (STEP) to support small businesses that want to attend the world's largest business-to-business digital technology (CEBIT), manufacturing (HANNOVER MESSE) and machine tool (EMO) industry events in 2013. The STEP program is funded through a grant from the U.S. Small Business Administration (SBA). The aim of the STEP Initiative is to increase the number of small businesses that are exporting and increase the value of exports for those small businesses that are currently exporting.

In fiscal year 2011, SBA awarded 52 grants totaling $30 million. The average value of grant awarded was $577,000. For more information on the STEP initiative, visit http://www.sba.gov/state-trade-and-export-promotion-step.
"We have a close relationship with the parties administering the STEP funds in all 50 states and are actively trying to spread the word to small businesses across the country," said Larry Turner, CEO of Hannover Fairs USA. "Any small business interested in attending these events in our global portfolio should contact Hannover Fairs USA and also get in touch with their state's economic development office to further their export initiatives."
The State of Washington attended HANNOVER MESSE 2012 with several companies funded under STEP, exhibiting in the U.S. Energy pavilion. Commenting on the experience, Andrew Crowder, Clean Technology Export Program, Washington State Department of Commerce stated, "All of our state's attending companies' registered impressive results. For instance, B&G Machine entered a multi-year contract with a German diesel engine manufacturer, Demand Energy Networks established relationships with a group of electrical power authorities, Enertechnix was offered financial aid to establish an assembly facility in Germany, and Hydrovolts generated several hundred leads. The State of Washington will return to HANNOVER MESSE 2013 with a sizable group of companies. The scale of the show and the global character of the attendees and exhibitors is unmatched, and we see this as the beginning of a long-term partnership."
Each state in the U.S. receives STEP funds based on a single application to the program each year. Activities authorized include participation in foreign trade missions and market sales trips, subscription to services provided by the U.S. Department of Commerce, design of international marketing products and campaigns, export trade show exhibits, training, and other efforts aligned with program goals. Hannover Messe USA and the STEP initiative are helping small businesses attend CeBIT from March 5-9, 2013, HANNOVER MESSE from April 8-12, 2013, and EMO from September 16-21, 2013. Each show is held annually in Hannover, Germany.
On a state-by-state basis benefits are available to a select number of small business companies that apply to attend CeBIT, HANNOVER MESSE or EMO. These benefits can include:
· A reduction in exhibition space costs of up to 50 percent
· Help with travel and lodging expenses
· Matchmaking services for valuable, pre-qualified new business leads
· Co-branding with the state and other U.S. trade fair partners
· A "pocket guide" listing all participating companies in the state to drive traffic to their booths
· Press matchmaking for optimum media exposure
Any company looking to take advantage of these benefits at CeBIT can contact Marsha Winston at (609) 987-1202, ext. 238 or mwinston@hfusa.com, for HANNOVER MESSE contact Ulli Hammer at (609) 987-1202 x 205 or uhammer@hfusa.com and for EMO contact Donna Hyland at (908) 735-0559 or dhyland@hfusa.com.
About Hannover Fairs USA
Hannover Fairs USA (HFUSA) provides global fair exhibitors lead generation and product launch support across target buyers and distribution networks worldwide. HFUSA works closely with exhibitors to help them maintain their competitive position on and off the show floor and to connect with a broad range of new market audiences. For more information, visit www.hfusa.com
About CeBIT
CeBIT is the world's largest and most important event in the business-to-business digital economy. Staged annually every spring by Deutsche Messe in Hannover, Germany, CeBIT was established as a stand-alone event in 1986. Boasting a unique mix of expo, conferences, keynotes, corporate events and business lounges, CeBIT is second to none in lead generation and stimulation of business growth. CeBIT takes place from March 5 to 9, 2013 and will feature four platforms – or showcases – dedicated to specific areas of application: CeBIT pro highlights secure and efficient information technology, telecommunications and online services solutions for today's business enterprises. CeBIT gov showcases the latest information technology, telecommunications and online services solutions for public administration and healthcare. CeBIT life presents high-tech trends, as well as technologies and applications for all areas of today's smart and mobile digital lifestyle. CeBIT lab features trailblazing solutions and emerging information technology, telecommunications and online services trends for the world of tomorrow.
About HANNOVER MESSE (the Hannover Fair)
The world's leading showcase for industrial technology is staged annually in Hannover, Germany. The next HANNOVER MESSE will be held from April 8 to 12, 2013 and feature Russia as its official Partner Country. HANNOVER MESSE 2013 will comprise 11 flagship fairs: Industrial Automation • Motion, Drive & Automation (MDA) • Energy • Wind • MobiliTec • Digital Factory • ComVac • Industrial Supply • IndustrialGreenTec • Surface Technology • Research & Technology. The upcoming event will place a strong emphasis on industrial automation and IT, energy and environmental technologies, power transmission and control, industrial subcontracting, manufacturing technologies, services and R&D.
About EMO
The EMO Hannover, the world of metalworking, will be held from September 16 to 21, 2013. The motto of this globally prestigious trade fair is "Intelligence in Production". Exhibitors from all over the world will be spotlighting their solutions for the challenges of an internationally focused industry in the 21st century.
Featured Product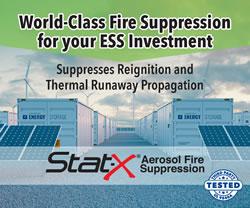 Stat-X® condensed aerosol fire suppression is a solution for energy storage systems (ESS) and battery energy storage systems (BESS) applications. Our Stat-X condensed aerosol fire extinguishing product was tested for efficacy in suppressing li-ion battery fires. It was found that the product successfully extinguished single and double cell battery fires. This testing was conducted in parallel with a large battery fire testing program on behalf of a large energy storage company.