Solar training programs all over the U.S. have adopted SEI's Solar Electric Handbook as the primary textbook for technical renewable energy training and workforce development.
Paonia, Colorado December 17, 2012

For more than 20 years, Solar Energy International (SEI) has been the leader in solar training and renewable energy educational resources. SEI continues to be committed to providing up-to-date materials and innovative instructional technologies for the growing renewable energy industry and career focused students.
In the spirit of this commitment to renewable energy education, SEI is pleased to announce the Solar Energy International Textbook Series being released throughout the coming year.
Kathy Swartz, Interim Executive Director for SEI said, "When SEI was selected by the Department of Energy to be part of the Solar Instructor Training Network (SITN) we saw an immediate increase in requests for our textbook. The SITN is composed of nine Regional Training Providers (RTPs) to help fulfill a critical need for high-quality, local, and accessible training in solar system design, installation, sales, and inspection through train-the-trainer programs.
The nine RTPs are well-established solar training institutions that offer expert trainers and first-class training facilities across the U.S. SEI is proud to be part of this network and hope our textbooks and solar training opportunities help create a well prepared workforce in the growing solar industry."
Printed in full color with high resolution photos of real-world PV applications, informational graphs, and interviews with professionals throughout the industry, these textbooks set a new standard for renewable energy training programs all over the U.S. and internationally. This textbook series includes both introductory topics for people just entering the field and highly technical textbooks for solar professionals:
Introduction to Renewable Energy
iPad / iBooks Format Only - (Available now! Free on iTunes).
Solar Electric Handbook: Photovoltaic Fundamentals and Applications
Print and eBook Format - (Order now! Click here to purchase - shipping now.)
Solar Electric Handbook: Advanced Photovoltaics for Solar Professionals
Print and eBook Format - (planned release late 2013)
Solar Electric Handbook: Battery Based Photovoltaic Systems
Print and eBook Format - (planned release late 2013)
New Learning Technologies - Textbook / eBook Bundle!
In partnership with Pearson Education, SEI has created an innovative learning resource that takes the concept of the common textbook to the next level by offering a companion interactive eBook with the purchase of every textbook. Mobile learning and technical reference for renewable energy professionals who are on a job site, on-the-go, and always connected.
The eBook version of SEI's Solar Electric Handbook: Photovoltaic Fundamentals and Applications leverages the power of new instructional technologies for the 21st century solar professional by offering access from any PC, Mac, iPad, or Android Tablet with full-text search capabilities, highlights, notes, bookmarks, support for multimedia content, glossaries, and many other exciting features! PC and Mac users will access the eBook from the Pearson eText portal. Mobile users will be able to download the App and enter the Pearson eText Access Card that comes with your SEI Textbook!
Chris Turek, Director of Online and Student Services for SEI said, "If you teach for or have taken courses recently at a college or trade school, you may be familiar with other Pearson textbook titles that offer this type of online and mobile learning eText resource through Pearson's MyLabs series. What was once only available for core academic areas like Math and Science is now available for professional solar training programs!"
Solar Electric Handbook: Photovoltaic Fundamentals and Applications Unit / Chapter Outline:
Unit 1 – Overview of Renewable Energy and the Solar Industry
Chapter 1 – The Case for Renewable Energy
Chapter 2 – An Overview of Photovoltaics and the Solar Industry
Unit 2 – Electricity and Components
Chapter 3 – Basics of Electricity
Chapter 4 – Components
Unit 3 – Modules, Series and Parallel, and Meters
Chapter 5 – Photovoltaic (PV) Modules
Chapter 6 – Series and Parallel Connections with Modules
Chapter 7 – Testing Modules with a Multimeter
Unit 4 – Solar Site Analysis and Mounting
Chapter 8 – Solar Site Analysis
Chapter 9 – Mounting
Chapter 10 – Roofing Systems
Unit 5 – Grid-Direct System Sizing
Chapter 11 – Implementing Efficiency
Chapter 12 – Grid-Direct Inverters
Chapter 13 – System Sizing
Unit 6 – Grounding, Wiring, and Overcurrent Protection
Chapter 14 – Grounding
Chapter 15 – Wiring
Chapter 16 – Disconnects, Overcurrent Protection, and Series Fusing
Chapter 17 – Basics of Service Panel Connections
Unit 7 – Safely Installing, Commissioning, and Decommissioning Grid-Direct Systems
Chapter 18 – Jobsite Safety
Chapter 19 – Safe Procedures for Installation and Commissioning
Unit 8 – Battery-Based Systems
Chapter 20 – Introduction to Battery-Based Systems
Chapter 21 – Sizing Battery-Based Systems
Unit 9 – Solar Business and Finance
Chapter 22 – Entering the PV Industry
Chapter 23 – Marketing and Sales for Solar Integration Businesses
Chapter 24 – Electricity Rates, Savings, and Incentive Structures
Chapter 25 – Financial Benefit Analysis and Financing Options
About Solar Energy International
Solar Energy International (SEI) was founded in 1991 as a nonprofit educational organization to help others to use renewable energy resources and sustainable building technologies through education and technical assistance.
Our vision is focused on helping create a more sustainable future for our planet and its inhabitants. Through our work, we see clear opportunities to influence people's thinking and behaviors towards energy efficiency and the use of natural, sustainable methods of energy production and utilization.
Solar Energy International is a 501(c)(3) Equal Opportunity Institution and Employer, and is not affiliated with any dealer, manufacturer, distributor, or any other renewable energy commercial enterprise.
Media contact for SEI is Christopher Turek, Director of Online and Student Services - chris(at)solarenergy(dot)org - 970-963-8855 x115 - http://www.solarenergy.org
Featured Product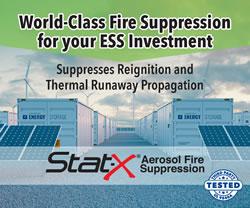 Stat-X® condensed aerosol fire suppression is a solution for energy storage systems (ESS) and battery energy storage systems (BESS) applications. Our Stat-X condensed aerosol fire extinguishing product was tested for efficacy in suppressing li-ion battery fires. It was found that the product successfully extinguished single and double cell battery fires. This testing was conducted in parallel with a large battery fire testing program on behalf of a large energy storage company.