Upsolar Greece gains momentum in emerging PV market
ATHENS, Greece--Upsolar, a leading international provider of solar PV modules, today announced the company was selected for a 2 MW project by RSEnergy Hellas Solartechnik Ltd. (RSEnergy), a major energy engineering, procurement and construction (EPC) firm based in Greece. The agreement is based on a long-term partnership with RSEnergy.

Located in Igoumenitsa, the solar PV system will provide clean power to a private Greek investor. This project serves as the latest in Upsolar's robust Greek portfolio, with the company shipping more than 55 MW of modules throughout the country since it established Upsolar Greece in 2010.
"As customers in Greece seek new methods to secure strong, long-term investments, the country's solar market has the potential to become a major global player in the coming years," said Ioannis Markatatos, Country Manager for Upsolar Greece. "Thanks to our partnerships with reputable partners like RSEnergy, Upsolar is poised to achieve significant market share across the region."
RSEnergy, a turnkey energy solutions provider, has chosen Upsolar PV modules for use in its ground mounted and industrial rooftop applications across Greece.
"RSEnergy has constructed projects with Upsolar PV modules all over Greece. The installations show very high yields. Our customers are extremely satisfied with the quality components deployed," said Mr. Müller-Polyzos, CEO of RSEnergy. "In addition to the very high electricity production, Upsolar provides security to the investors by means of the PowerGuard insurance. The PowerGuard insurance is backed up by industry-leading insurance companies with A ratings. This provides investment security to our customers over the whole lifetime of the project."
About Upsolar
Upsolar is a leading international solar module developer and producer, offering the solar industry's best quality / price ratio in the global PV market. With vertically integrated, diversified manufacturing platforms, as well as an R&D-supported quality control management system, Upsolar produces high quality, reliable solar modules backed by a world-class warranty, at competitive prices. Headquartered in Shanghai, Upsolar has offices throughout Asia, Europe and North America to support an international customer-base, providing on-site technical support, customer service and product development teams. For more information, visit www.upsolar.com.
Featured Product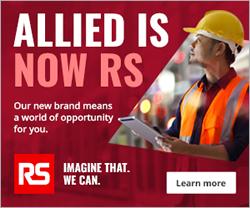 Moxa is a leader in edge connectivity, industrial computing, and network infrastructure solutions for enabling connectivity for the Industrial Internet of Things. With over 30 years of industry experience and 65 million devices connected worldwide, Moxa has a distribution and service network to serve customers in more than 80 countries. Now at Allied-find over 1,000 products from Ethernet switches, protocol converters, routers, and more. Allied Electronics & Automation, part of RS Group & Automation, part of RS Group is an authorized distributor of Moxa.