The fully portable lighting systems will be stored at the Brazilian Air Force Command Centre
VICTORIA, British Columbia--Airfield lighting partners Carmanah Technologies (TSX:CMH), ADB Airfield Solutions and Brazilian distributor AVIEX Importacao have been selected to supply five emergency-deployable, solar-powered airfield and helipad lighting systems to the Brazilian Air Force at a value of over $400,000.

The fully portable lighting systems will be stored at the Brazilian Air Force Command Centre and are designed to be easily deployed at offsite locations as operational requirements change. All systems include durable deployment containers to ensure safe transportation and storage. Each airfield and helipad is also equipped with a rugged radio controller to allow for remote activation, in-field programming, and on-demand switching between standard and infrared night operations modes.
"Carmanah's technology offers our military clients a practical solution to meet the realities of tactical and emergency operations. Rapid deployment is often necessary in remote and under-serviced locations. Solar airfield lighting ensures that essential access can be maintained around the clock anywhere there is a safe landing surface, regardless of the availability of traditional power sources," said Steve Rauch, President and CEO of ADB Airfield Solutions, LLC.
"This transaction underscores the strength of our partnership with ADB and our continuing relationship with the Brazilian Air Force," said Carmanah CEO Bruce Cousins. "Carmanah's innovative solar airfield solutions for airfields and helipads are well-suited to military applications and are accepted and proven worldwide. We are pleased to see such a large order commitment, which we believe marks a shift in our close-rate of large Aviation projects. Future applications of solar technology within civil airfields remain a significant market opportunity for the company and a primary focus for the Aviation team."
About Carmanah Technologies
Carmanah Technologies Corp. As one of the most trusted names in solar technology, Carmanah has earned a reputation for delivering strong and effective products for industrial applications worldwide. Industry proven to perform reliably in some of the world's harshest environments, Carmanah solar LED lights and solar power systems provide a durable, dependable and cost effective energy alternative. Carmanah pursues its business strategy within six distinctive product offerings: outdoor lighting, marine signal, aviation signals, traffic signals, grid-tie and mobile. Carmanah is actively seeking additional product sales opportunities to add to its top line revenue, as well as extending existing product lines through internal development efforts, strategic business relationships as well as focused acquisitions. Carmanah is a publicly traded company, with common shares listed on the Toronto Stock Exchange under the symbol "CMH". For more information, visit www.carmanah.com.
About ADB Airfield Solutions
ADB is the world's leading airfield lighting technology company in the FAA and ICAO markets providing advanced, integrated and sustainable solutions for visual guidance. With a world-wide presence for more than 60 years, ADB differentiates itself by offering an innovative portfolio and expertise which sets standards in safety, performance and quality that is supported by unparalleled levels of customer service. ADB is trusted as the preferred partner for airside operations. For more information about ADB, visit www.adb-airfieldsolutions.com.
Featured Product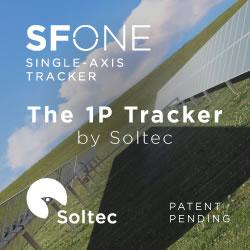 SFOne is the 1P single-axis tracker by Soltec. This tracker combines the mechanical simplicity with the extraordinary expertise of Soltec for more than 18 years. Specially designed for larger 72 an 78 cell modules, this tracker is self-powered thanks to its dedicated module, which results into a lower cost-operational power supply. The SFOne has a 5% less piles than standard competitor, what reduces a 75% the labor time.