In 2012, Mortenson erected approximately 1,200 turbines for 21 wind projects across eight states.
December 21, 2012 Minneapolis, MN-With the recent completion of turbine

erection for the EDF Renewable Energy-owned, Bobcat Bluff Wind Project,
Mortenson Construction's Renewable Energy Group completed a record breaking
year. In 2012, Mortenson erected approximately 1,200 turbines for 21 wind
projects across eight states. Notably, after installing the final turbine
at Bobcat Bluff in early November, Mortenson achieved mechanical completion
six weeks ahead of schedule. All told, the projects Mortenson completed in
2012 will generate approximately 2,400 megawatts of renewable energy
nationwide.
Located in Archer City, Texas, the 150-megawatt Bobcat Bluff project
represents the 16th project Mortenson has built in the Lone Star State and
the 23rd project built to date for long-time customer, EDF Renewable Energy.
Since entering the wind industry in 1995, Mortenson has constructed a total
of 124 wind projects across North America.
"We are honored to have participated in the expansion of EDF Renewable
Energy's growing wind portfolio," said Tim Maag, VP and general manager for
Mortenson's Renewable U.S. Wind Energy Group. "It's fitting that the final
project of the year is the result of an 11-year partnership with such a
valued customer- culminating our most successful year in the wind industry
in our 17-year history,"
Mortenson began construction in May and was responsible for the engineering,
procurement, and construction of access roads, foundations, underground
collection system, transmission line, substation, O&M building, and the
erection of 100, GE 1.5 MW, SLE turbines.
During construction approximately 100 Texas residents were employed by
Mortenson and its trade partners. It is estimated that over $2,600,000 in
cumulative dollars were paid to local businesses and approximately
$8,200,000 were paid to other business throughout the state as a result of
the construction of the project. Bobcat Bluff will generate power for
approximately 45,000 households
About Mortenson Construction
Founded in 1954, Mortenson Construction is a U.S.-based, family-owned
construction company. Ranked as the 19th largest contractor in America, and
the largest wind power contractor in the United States, according to
Engineering News-Record, Mortenson provides a complete range of services
including planning, program management, preconstruction, general
contracting, construction management, design-build, and turn-key
development.
Since entering the renewable energy market in 1995, Mortenson Construction
has become the leading builder of wind power facilities in North America
having constructed more than 120 wind projects generating over 13,000
megawatts of renewable power throughout the United States and Canada. In
addition to wind power, Mortenson's Renewable Energy Groups, also construct
facilities that generate solar power and emerging renewables and high
voltage transmission distribution.
Mortenson has offices in Chicago, Denver, Milwaukee, Minneapolis, Phoenix,
and Seattle with international operations in Canada and China. For more
information, please visit www.mortenson.com
Featured Product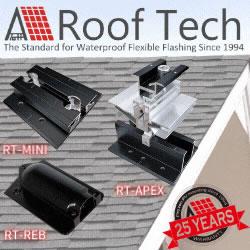 Now Roof Tech brings you the most innovative, watertight mounting systems ever developed for solar photovoltaic systems. Designed and manufactured exclusively for us by Japan's longtime leader in roofing technologies, Roof Tech products are 100% code-compliant and offer fast, simple installation and huge savings on shipping costs due to their compact, rail-less design. Learn more about our full line of versatile PV mounting solutions now available for residential installations. The next generation in rooftop solar mounting solutions."