The project has now also reached an important milestone with the installation of the project's first turbine.
International marine engineering company SeaRoc has been appointed Principal Contractor to oversee the completion of the offshore wind farm construction at Teesside Offshore Wind Farm on behalf of EDF Energy Renewables. The project has now also reached an important milestone with the installation of the project's first turbine.

On 1st January 2013, SeaRoc was appointed by EDF Energy Renewables as Principal Contractor to undertake the remaining planning, management and co-ordination of work on the project, involving the installation of the 27 WTGs and towers, TP energisation & cable terminations, marine coordination utilising in-house management tool - SeaPlanner, scour protection and array commissioning.
Project Director Toby Mead commented: "In 2012 SeaRoc delivered a raft of installation projects across both Offshore Wind and Tidal sectors; to kick off 2013 with this key project puts a very definite marker in the sand for the future of the company". The SeaRoc team will be assisted by staff from sister company, Natural Power, for the site management works.
SeaRoc, on behalf of EDF Energy Renewables, and working closely with sister company Natural Power, has now completed the installation of the tower, nacelle and rotor blades of the first of the 27, 2.3MW wind turbine generators to be erected on the 62MW scheme.
Commissioning tests on the new installation will be carried out ahead of electricity generation beginning in the forthcoming weeks. Installation of the turbines is being undertaken with the MPI Adventure, a six leg jack up vessel, owned by the Stokesley-based MPI Offshore.
The wind farm, located 1.5km off the North East coast at Redcar, is the first UK offshore development undertaken by EDF Energy Renewables.
Work on the installation of the remaining wind turbine generators continues and, allowing for periods where the weather conditions will prevent construction works taking place, it is expected that the erection of all wind turbine generators will be completed in Spring 2013.
Christian Egal, Chief Executive of EDF Energy Renewables, said: "The installation of the first offshore turbine on our first offshore scheme is a landmark event for the company, supporting the expansion of our onshore wind farm capacity over recent years."
EDF Energy Renewables already has 21 operational onshore wind farms contributing 300MW of low carbon electricity in the UK. Including the Teesside scheme, a further 224MW of additional capacity is currently under construction.
For more information visit www.searoc.com
SeaRoc
SeaRoc provide marine and engineering services for offshore renewable projects exclusively for the wind, wave and tidal sectors. The company, with head offices in Brighton UK, supports project developers, owners, investors, contractors, insurers, government bodies and industry regulators on a wide range of offshore wind, wave and tidal projects.
SeaRoc have been involved from site selection through construction to operations and maintenance on a large number of UK projects, as well as an increasing number of Northern European and North American projects. Services include: Marine, QHSE, Engineering and Project Management expertise; EPCI contracting; turn-key offshore met mast installation services, and; floating wind lidar product, SeaZephIR®.
EDF Energy Renewables
EDF Energy Renewables is a 50:50 Joint Venture between EDF Energy and EDF Energies Nouvelles. It combines its parent companies' renewable energy development skills, expertise, and resources in one place to spearhead EDF Group's renewables development activities in the UK.
EDF Energy Renewables formalises a well established history of cooperation between the two sister EDF Group companies and creates a vehicle for the development, acquisition and operation of renewable energy assets, both on and offshore, in the UK.
Featured Product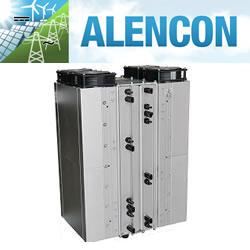 Alencon Systems is the premier manufacturer of high power, high voltage DC:DC optimizers for alternative energy applications including solar, battery energy storage, Microgrids, Fuel Cells and Electric Vehicle charging. Alencon's DC:DC converter offerings include the SPOT, BOSS and CUBE series DC:DC converters. The SPOT is a modular, uni-directional DC:DC solution ideal for solar applications. The BOSS is a modular, bi-directional unit for use with battery energy storage. The CUBE is a monolithic DC:DC converter which is available in both uni-directional and bi-directional modalities. Pictured above, is the Alencon SPOT.