Solar is the fastest-growing and most affordable, accessible and reliable clean energy technology available today.
WASHINGTON, DC – Carrie Cullen Hitt, senior vice president of state affairs at the Solar Energy Industries Association, released the following statement in reaction to yesterday's Arizona Corporation Commission (ACC) decision to eliminate all incentives for competitive commercial solar systems:

"SEIA is disappointed to learn of the Arizona Corporation Commission's decision to eliminate policies critical to future commercial solar energy investment. While the ACC maintained funding mechanisms for utility-owned projects, it eliminated those for privately-developed commercial systems. The latter is a step backwards for Arizona's longstanding commitment to economic development, free markets and expansion of clean energy resources. This is particularly troubling at a time when Arizona faces challenges including water usage and shuttering of coal facilities. It is our expectation that this Commission will, despite this aberration, continue to support a diversified solar market in the future."
"Arizona businesses will continue paying monthly Renewable Energy Standard Tariff (REST) surcharges, but they will have no longer have the opportunity to use these funds to eliminate or reduce their electricity bill by installing solar themselves.
"While today's decisions come as a surprise to SEIA, we remain committed to participating in a transparent decision-making process with the ACC that maintains free market choices for Arizona businesses and consumers."
Since 2008, the amount of solar powering U.S. homes, businesses, and military bases has grown by more than 500 percent – from 1,100 megawatts to more than 6,400 megawatts today, which is enough to power more than one million average American households. Solar is the fastest-growing and most affordable, accessible and reliable clean energy technology available today. America's solar industry now employs more than 119,000 workers at 5,600 companies – most of which are small businesses spread across every state in the union.
Arizona is currently ranked 3rd among states in terms of installed solar capacity, according to the latest U.S. Solar Market Insight® report. There are approximately 9,800 solar professionals working at more than 270 companies in Arizona.
About SEIA®:
Established in 1974, the Solar Energy Industries Association® is the national trade association of the U.S. solar energy industry. Through advocacy and education, SEIA and its 1,000 member companies are building a strong solar industry to power America. As the voice of the industry, SEIA works to make solar a mainstream and significant energy source by expanding markets, removing market barriers, strengthening the industry and educating the public on the benefits of solar energy. www.seia.org
Featured Product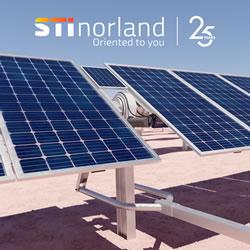 Developed in 2017, the STI-H250™ is consists of two linked torsion beams that rotate simultaneously following the sun's path. They are moved by just one motor, cutting supply and maintenance costs. STI-H250™ dual-row tracker includes backtracking mode to avoid shadowing between adjacent rows and stow function to protect the tracker in extreme wind conditions. For cleaning, vehicles can pass between trackers and each row can be placed in a different position.