MCS-certified product now offered through Ecolution Renewables
LONDON--Upsolar, a leading international provider of solar PV modules, today announced the UK availability of its smart modules powered by Tigo Energy. The product is currently available through Upsolar distribution partner Ecolution, a local PV service provider with nearly two decades of experience in the UK renewables market.

To create smart modules, Tigo Energy's optimizers are integrated into the junction boxes of Upsolar modules during the manufacturing process, which enhances the flexibility of system design, eases the installation process and reduces balance of systems costs. These benefits are made possible by utilizing patented impedance matching technology to maximize power harvest at the module level. Additionally, systems featuring smart modules are equipped with real-time monitoring capabilities, allowing customers to access and analyze performance data at the module level through Tigo Energy's module-level monitoring software and mobile app.
"Upsolar is known for its meticulous attention to product quality and customer service—characteristics we hold in high esteem for both our partners and ourselves," said Richard Jenkins, Managing Director for Ecolution Renewables. "We're proud to offer our customers Upsolar's full product suite, including smart modules, as we strive to make solar power available to all."
"Aligning our company with a reputable name like Ecolution Renewables vastly expands our reach across the region," said Justin Canning, Upsolar's UK Manager. "As Upsolar's valued partner offering MCS-certified smart modules, Ecolution can provide its customers with a major opportunity to further enhance their PV offering."
For more information on Upsolar's smart modules, please visit: upsolar.com/uk/products.
About Upsolar
Upsolar develops and produces high quality solar PV modules at competitive prices, offering a secure long-term investment for customers around the world. Bolstered by a commitment to product R&D and support from its flexible manufacturing platforms, Upsolar ensures top-tier performance and reliability while maintaining an asset light approach to its business. All Upsolar products are backed by industry-leading product and performance guarantees to ensure superior performance over the lifetime of each system. Upsolar also champions sustainability through key sponsorships and environmental initiatives. To learn more about Upsolar, its products or its sustainability efforts, please visit www.upsolar.com.
About Ecolution Renewables
Ecolution has been providing renewable energy solutions to the building industry since 1999. They have a team with more than 100 years combined experience in the design, installation, maintenance and now monitoring of integrated renewable energy technologies. The company's focus is on photovoltaic and solar thermal system installation; with several thousand installed systems on a wide range of buildings and roof types. Ecolution is committed to providing excellent service to their customers and is proud of a 100% positive recommendation rate of previous customers.
About Tigo Energy
Tigo Energy designs the #1 PV solar optimizer SmartModule™ technology utilizing patented impedance matching technology enabling 25% more power density and efficiency on any roof or utility project, uneven string lengths and different orientations. Installers and system owners achieve the highest ROI by increasing energy production and maximum system uptime for new systems and retrofits. Headquartered in the Silicon Valley, Tigo Energy is an innovative force partnering with module, inverter and combiner box manufacturers to embed these technologies and monitor arcing, fire and safety hazards. Tigo Energy delivers the most effective string monitoring, theft prevention and fleet management. For more information, visit www.tigoenergy.com.
Featured Product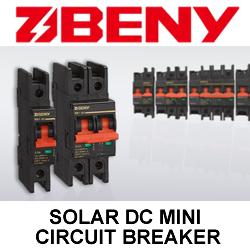 The BB1-63 modular miniature circuit-breakers can be used in solar DC circuits up to 1200 VDC (4-poles execution). Application in solar DC circuits, battery energy storage systems and UPS. Arc flash barrier design keeps solar equipment more safe and reliable. For DC circuit over-current protection.