With a huge opportunity now open for PV in Saudi Arabia, efforts are underway to analyse the potential for integration between the technology and oil.
It was noted in PV Insider's recent PV Guide to the MENA Region that the Government of Saudi Arabia has set an ambitious target of 41GW (16GW of which allocated to PV) by 2032. This translates to 10% of domestic use power generated by 2020 before reaching the 41GW mark by 2030.

As the world's largest oil producer, Saudi Arabia's interest in solar is a fairly recent phenomenon. The guide explained that a motivating factor in the adoption of its solar targets is the internal consumption of oil reserves, which continues to increase unabated. If current trends are maintained then Saudi Arabia runs the risk of becoming a net importer of oil.
Research and development efforts are now being conducted to see if PV can be integrated with oil resources, where the main factors are the increased cost of fuel and the annual decreased cost of PV.
At MENASOL 2013 (14-15 May, Dubai), Mohamed Salah Smiai, Energy Expert at the Energy Research Institute of the King Abdul Aziz City for Science and Technology (KACST) will be analysing integration models between Saudi Arabia's oil and solar. The presentation aims to draw a comparison of the actual cost of electricity between conventional sources and PV.
For more information on the presentation, please visit www.pv-insider.com/menasol
Contact information:
Matt Carr
PV Insider
matt@pv-insider.com
Featured Product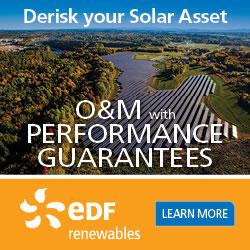 EDF Renewables offers the same innovative solutions that maximize the performance of our own 5.2 GW of installed projects. Because we're not an equipment manufacturer, our recommendations are transparent and data-driven. We cover the entire project lifecycle: from pre-commissioning support, through warranty and post warranty operation, to late stage and decommissioning.