M series transformerless inverter provides the best value for energy yield, safety, and ease of design.
GRASS VALLEY, Calif. — Effective immediately, KACO new energy is shipping the blueplanet M series of inverters with Tigo Energy's Management Unit integrated.

KACO new energy, a global leader in solar inverter manufacturing with nearly six gigawatts of PV inverters in the field to date, launches integrated inverter solution optimized for use with smart modules for the North American market.
Available today, blueplanet 6400M and 7600M inverters are equipped with internal Tigo Energy Management Units (MMUs) and the PV Safe™ button. This integrated solution simplifies system design, increases safety, and reduces the amount of DC BOS equipment. The MMU and the PV Safe™ button provide unparalleled design flexibility and safety.
These smart module optimized inverters are the perfect backbone when paired with Tigo Energy's smart module alliance partners for kitted or package solution offerings. The integrated Smart Curve technology allows for strings to be 30% longer, reducing installation time and cost.
"KACO new energy's M series transformerless inverter provides the best value for energy yield, safety, and ease of design. The Tigo integration with the PV Safe™ button reduces the risk of arc and fire hazards, as well as comprehensive monitoring of each module on the array." says Sam Arditi, CEO of Tigo Energy, Inc.
By integrating Tigo Energy's MMU directly into inverters, KACO new energy is offering a streamlined solution to pair perfectly with smart modules. Incorporated MMUs increase intelligence within the inverter by allowing MPPT and impedance matching at the inverter and module level, providing the highest possible level of functionality and energy harvest. This technology also enables control of the input voltage range controlled directly at the inverter and provides cost optimized electronics within the inverter, removing the cost of boost-stage electronics and other control devices.
"Integrating smart module technology to work seamlessly with our products is the next step for inverters," says Dorko Eliaszewskyj, CEO at KACO new energy North America. "As the industry matures we believe integration with optimization technologies are imperative to moving the industry forward. In addition, the implemented PV-Safe Button™, which disconnects each single PV module, will be a great new feature for the North American PV industry."
About KACO new energy
KACO new energy is a powerful global leading partner for PV system solutions and has built a tradition of excellence in the photovoltaic inverter and power electronics industries. The German-based factory engineers have been developing, designing and manufacturing current inverters and power electronics for more than 60 years.
The KACO blueplanet product family has set new standards in photovoltaic applications—particularly in reliability, efficiency, power density, and patented technology to meet NEC requirements. As the heart of photovoltaic installation, the KACO inverter pumps electricity into the public grid continuously and efficiently. The efficiency of the KACO blueplanet inverters will earn money and a solid return on solar investment. Additional information about KACO is available at www.kaco-newenergy.com.
About Tigo Energy
Tigo Energy designs the #1 PV solar optimizer and SmartModuleTM technology utilizing patented impedance matching technology, enabling 25% more power density and efficiency on any roof or utility project, uneven string lengths and different orientations. Installers and system owners achieve the highest ROI by increasing energy production and maximum system up-time for new systems and retrofits.
Headquartered in the Silicon Valley, Tigo Energy is an innovative force partnering with module, inverter and combiner box manufacturers to embed these technologies and monitor arcing, fire and safety hazards. Tigo Energy delivers the most effective string monitoring, theft prevention and fleet management. For more information, visit www.tigoenergy.com.
Featured Product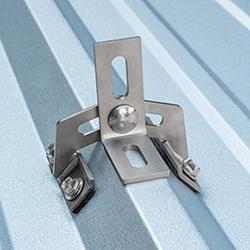 Explore new lines of income for your solar installation business with QuickBOLT's Stone Coated Steel roof mounts designed in partnership with metal roof manufacturers themselves. These SCS roof mounts work on all metal tile profiles and will help you bring in money you're missing out on. By not driving into the roofing material, QuickBOLT's Stone Coated Steel roof hooks maintain the integrity of the roof. Install with ease and confidence knowing your roof is protected against the harsh elements that these hooks are designed for.