Secretary Chu oversaw the rapid expansion of renewable energy technology and deployment in the U.S.
Washington, D.C.; February 1, 2013–The American Council On Renewable Energy (ACORE) praises the superb work of outgoing Secretary of Energy Dr. Steven Chu. Secretary Chu's resignation was announced today, following four years of exceptional leadership at the Department of Energy that will serve many generations of Americans for decades to come. Notably, Secretary Chu oversaw the rapid expansion of renewable energy technology and deployment in the U.S., with nearly 85 gigawatts of installed renewable capacity by 2013.

"Secretary Chu led America forward toward a cleaner, more sustainable future powered by increasing amounts of renewable energy. His focus on innovation and objective scientific knowledge have encouraged the development of technologies that are even today delivering reliable, clean, and more affordable electricity to Americans," said ACORE President, Vice Admiral Dennis McGinn. "Secretary Chu served our country in a manner that deserves the utmost respect. His vision of bringing more renewable energy online has directly benefited the American economy and environment, and set a sure course toward America's clean energy future."
Secretary Chu, who received his Ph.D. degree from Cornell University is also the 1997 winner of the Nobel Prize for Physics and, prior to his service at the Department of Energy (DOE), was the former Director of the Lawrence Berkeley National Lab. ACORE praises Secretary Chu's intrepid vision at DOE and his ability to drive meaningful action and encourage significant growth for issues such as renewable energy installations, private investment in the clean tech sector and thousands of new green jobs throughout the U.S.
"If you look at the significant achievements during the Secretary's tenure, you can't help but be impressed that he's done a remarkable job in moving us forward to a more secure and prosperous energy future," said Vice Admiral Dennis McGinn. "Under Secretary Chu's leadership America added over 42 gigawatts of renewable energy capacity, providing enough new electricity to power 31 million homes, and nearly doubling the 2009 level from when he took office. Solar prices dropped significantly and wind energy is reaching levels competitive with natural gas. America is really turning the corner in developing a leading clean energy economy."
During his tenure, Secretary Chu oversaw the expansion of solar jobs to nearly 120,000 across America, with strong growth expected to continue in 2013. His support for wind energy encouraged record development and, with 13,124 megawatts of turbines installed last year, wind energy beat natural gas to become the largest new source of power generation for the first time. These advancements provide important precedent for renewable energy development in the future and Secretary Chu's contributions are a shining example that ACORE hopes will continue for years to come.
ACORE extends its thanks to Secretary Chu for his guidance at DOE and his service to the country.
About ACORE:
ACORE, a 501(c)(3) non-profit membership organization, is dedicated to building a secure and prosperous America with clean, renewable energy. ACORE seeks to advance renewable energy through finance, policy, technology, and market development and is concentrating its member focus in 2012 on National Defense & Security, Power Generation & Infrastructure, and Transportation. Additional information is available at www.acore.org.
Featured Product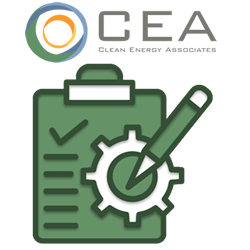 Clean Energy Associates provides a complete quality assurance solution that covers the entire product lifecycle of PV modules, storage systems, and every Balance of Sy stem (BOS) component. CEA's experienced on-the-ground and international team of quality control engineers and account managers offer an unparalleled quality assurance presence that can protect solar and storage investments and ensure future energy-producing viability for the life of the product.